Unleash Your Imagination
Creators, the Unleash Your Imagination Challenge has come to an end. Thank you for submitting all of your effects! We're excited to share the winners of this challenge.
Please add your payment information in the Rewards Center to receive your prize!
Mini Games Champion: FIND THE BALL by @Maru AR Creator
Mini Games Finalists
Banana shader by @lucky98
Stop the Bucket by @チャリ走スタジオ
Egg Balancing Challenge by @uf
AI Effect Champion: AI KID by @Roberto Brendo
AI Effect Finalists
Ai Angel Manga by @AkaPink 
Up by @PistachoColorful 
Style by @Stack
Green Screen Champion
Custom Gallery by @Sigraph • Filter Creator
Green Screen Finalists
Photobooth Scroll by @Joe – TikTok Filter Creator
eff Tiktok Frame by @Asifmehmood+effect Creator
Today activity by @thisjoys | Effect Creator
---
About this challenge
Unleash the power of your imagination using Effect House's newest features. From text-to-image tools to green screen, we've got what you need to create amazing, interactive TikTok effects!
Submit your effect before September 27, 2023 for a chance to win up to $2,500.
---
What we're looking for
More tracks, more chances to win!
Participate in more than one track for more chances of winning!
Track 1: Mini Games
Create a fun, interactive effect using colliders, Rigid Body, Social Kit, interactive templates, or subgraphs from MicroJam projects, such as Gaming Joystick and Side Scroller Game.
Track 2: AI Effects
Create an effect powered by generative AI, using features such as Art Maker templates and Asset Studio.
Track 3: Green Screens
Create an effect that allow creators to add own images using the User Media Texture feature.
---
Eligible regions
Creators who reside in the following regions may participate in this challenge:
Albania, Algeria, Andorra, Argentina, Austria, Bahamas, Bahrain, Barbados, Belgium, Belize, Bermuda, Bosnia and Herzegovina, Botswana, Brazil, Bulgaria, Canada, Cayman Islands, Chile, Columbia, Costa Rica, Croatia, Cyprus, Czechia, Denmark, Dominica, Dominican Republic, Ecuador, Egypt, El Salvador, Estonia, Faroe Islands, Finland, France, French Polynesia, Georgia, Germany, Gibraltar, Greece, Greenland, Grenada, Guadeloupe, Guatemala, Honduras, Hong Kong, Hungary, Iceland, Indonesia, Ireland, Israel, Italy, Jamaica, Japan, Jordan, Kazakhstan, Kenya, Kuwait, Latvia, Lesotho, Liechtenstein, Lithuania, Luxembourg, Malawi, Malaysia, Malta, Mauritius, Mexico, Monaco, Morocco, Mozambique, Netherlands, New Caledonia, New Zealand, Nicaragua, Norway, Oman, Panama, Peru, Poland, Portugal, Qatar, Republic of Moldova, Romania, Réunion, Saint Kitts and Nevis, Saint Lucia, San Marino, Saudi Arabia, Senegal, Serbia, Seychelles, Slovakia, Slovenia, South Africa, South Korea, Spain, Sweden, Switzerland, Taiwan, Thailand, The Philippines, Trinidad and Tobago, Turks and Caicos Islands, United Arab Emirates, United Kingdom, United States, Uruguay, Venezuela, Vietnam
---
Prizes
If you succeed, you'll be one of the winners to receive a reward:
Mini Game Champion (1): $2,500 USD
Mini Game Finalists (3): $1,000 USD
AI Effect Champion (1): $2,000 USD
AI Effect Finalists (3): $500 USD
Green Screen Champion (1): $2,000 USD
Green Screen Finalists (3): $500 USD
Cash rewards will be paid to the relevant winners' TikTok accounts.
---
How to enter
Download and create your effect using Effect House. Try out some of the new features!
On the Publish Effect form, complete the required fields and select Unleash Your Imagination under Challenge.
Click Next to review your submission.
Click Submit and you're all set!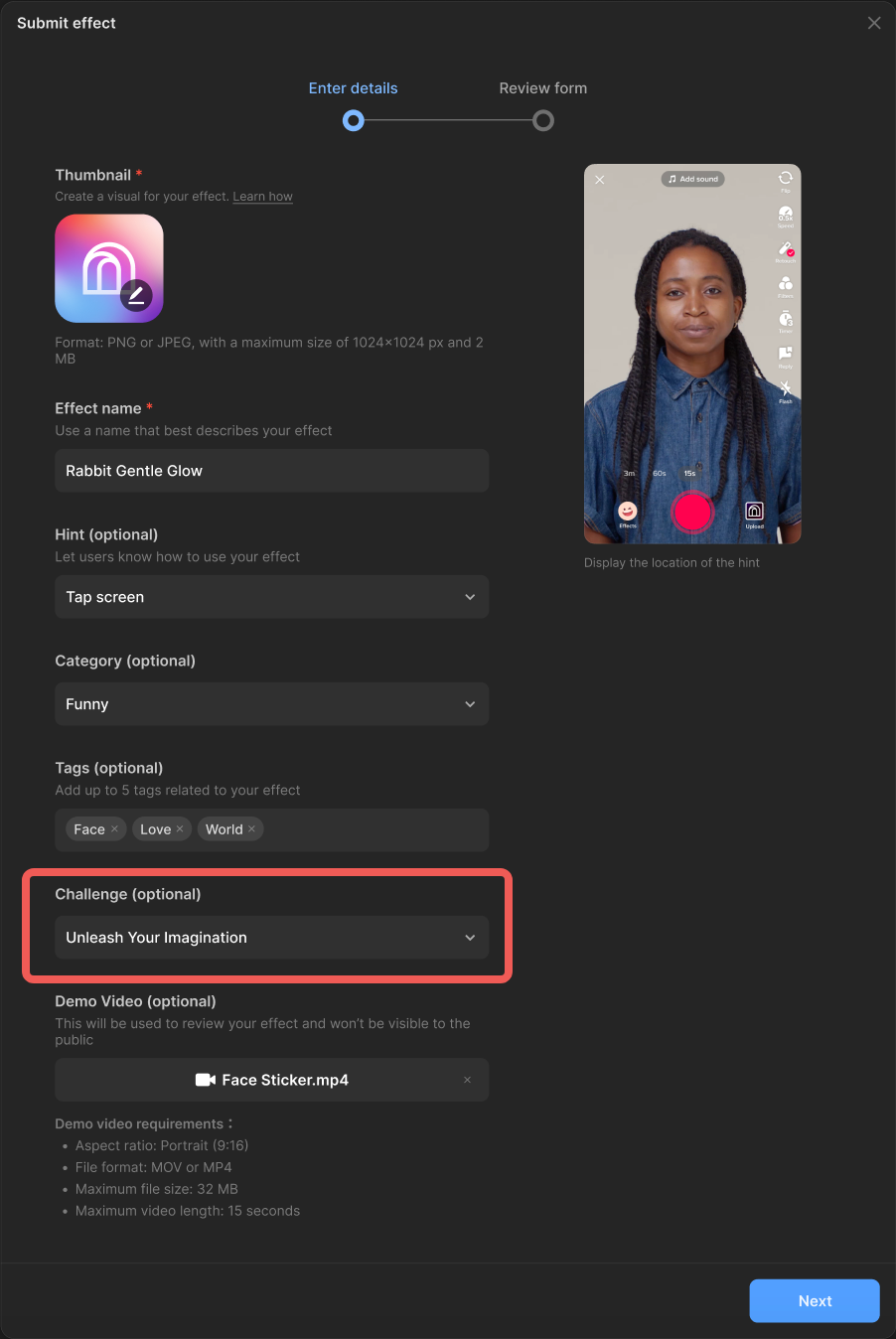 Mission timeline
Submission start date: August 29, 2023 @ 10:00 AM PST
Submission end date: September 27, 2023 @ 10:00 AM PST
Winners announcement: October 15, 2023 @ 10:00 AM PST
---
Tips
Update Effect House to the latest version to try some of the newest features, templates, and assets!
Features
Templates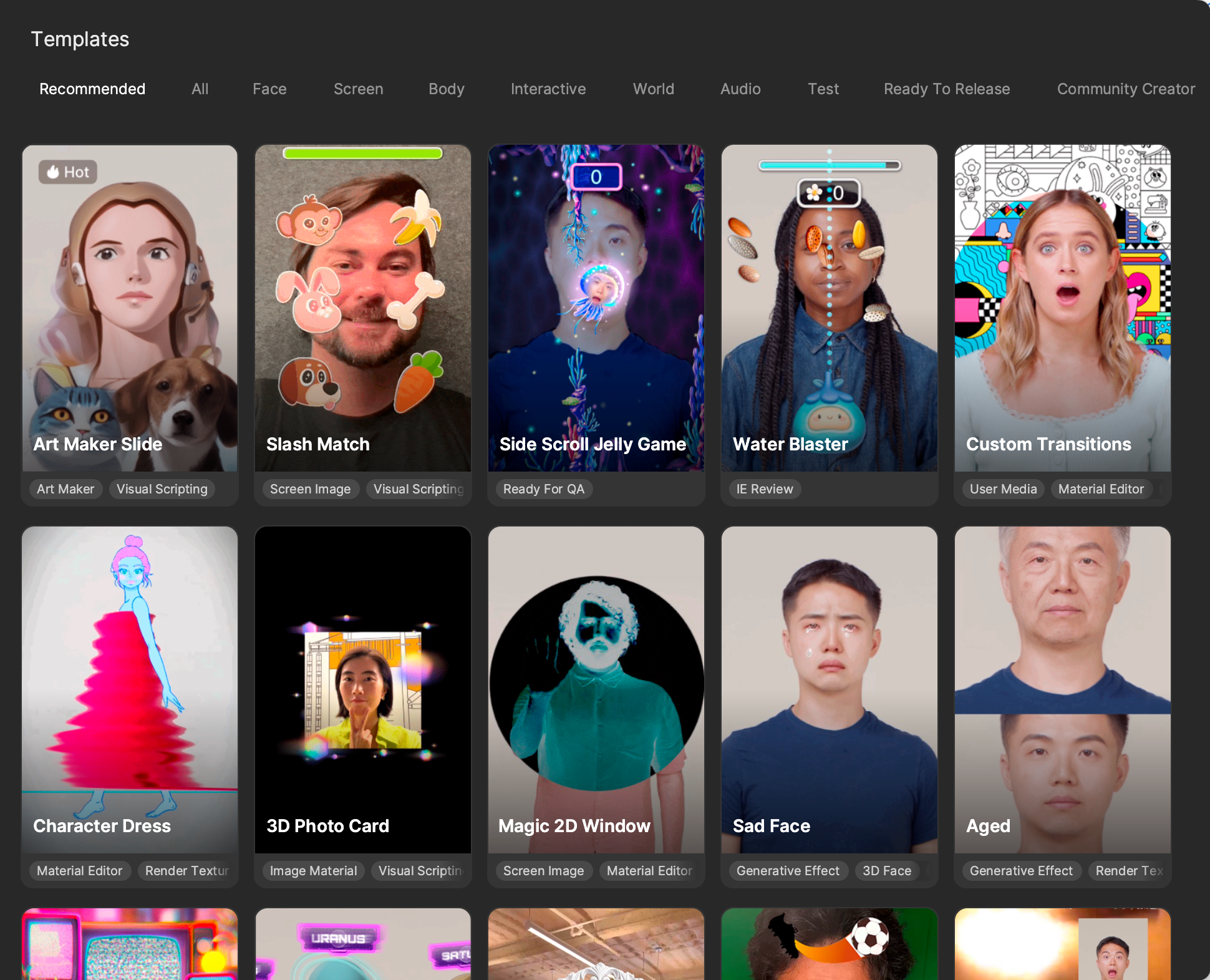 Assets from Asset Library
Diamond and fur materials
Visual Scripting assets
---
Frequently asked questions
---
How do I know if I won the challenge?
---
Can I submit effects I've already published?
---
Can I submit more than one effect?
---
Can I get more than one prize?
---
Visit here for full terms and conditions. No purchase necessary, void where prohibited. The Challenge Period is between Aug 29, 2023 PST and Sep 27, 2023 PST. Open to legal residents of a region where Effect House and TikTok are available and who are at least 18 years of age, or the age of majority, at the time of entry. Enter by submitting an effect as described in the terms between Aug 29, 2023 PST and Sep 27, 2023 PST. 12 winner[s] will be selected by a panel of judges based on specific criteria set out in the terms. Username and profile picture of winner[s] will be displayed. Reward: 
One (1) Mini Games Champion: $2500 USD
Three (3) Mini Games Excellent Works: $1000 USD each
One (1) AI Effect Champion: $2000 USD
Three (3) AI Effect Finalists: $500 USD each 
One (1) Green Screen Champion: $2000 USD
Three (3) Green Screen Finalists: $500 USD each 
 Limit of 1 Reward per person/Challenge track. Odds of winning depend on the number of eligible entries received.
The European Economic Area (EEA):
Visit here for full terms and conditions.