Fashion Month Challenge: Trending Tomorrow
Creators, the Fashion Month Challenge has come to an end. Thank you for submiting all of your fashion and beauty effects! We're excited to share the winners of this challenge:
Fashion Category
1st Prize & Fashion Month Grand Prize
Fashion Designer by @paula.casado_
Honorable Mentions
Fluffy Furrylings by @haleycatpawz
Tomorrow's Collection by @libardomartinez99
Beauty Category
1st Prize
Beauty Makeover by @xojourdanlouise
Honorable Mentions
ArcadeGlam by @si.graph.off
fashion week makeup by @tetedetamere
Congratulations to all winners! We will be in contact with you over the next few weeks to process your prize winnings. Stay tuned for our next challenge!
---
About this challenge
Time to hit the runway! Join the Fashion Month Challenge and showcase your talent with AR effects. It's all about beauty, outfits, and great ways to inspire the Fashion community.
Participate to win up to $2,000 and the chance to attend the Paris Fashion Week!
---
What we're looking for
Get ready to sizzle the runway and unleash your inner fashionista and makeup maestro! There are two categories:
Fashion Category
With fashion month just around the corner, we are calling you to ignite the hottest fashion trends! Be the visionary behind the styles that everyone craves by creating fashion effects! 
Beauty Category
Unleash your inner makeup guru and craft mesmerizing beauty effects that'll inspire the beauty community to go wild with your makeup magic!

When designing your effects, think big! How can the community use your creations to spark a fashion frenzy? Get innovative with randomizers, dazzle with try-ons, educational, how-tos… the sky's the limit! Let your imagination run wild and let's ignite the fashion and beauty world together!
---
Eligible regions
Individuals who are not residents of Afghanistan, American Samoa, Anguilla, Bangladesh, Cameroon, Cote D'Ivoire (Ivory Coast), Crimea, Cuba, Dominica, Donetsk, Equatorial Guinea, Fiji, Gabon, Ghana, Guam, Haiti, Iran,Iraq, Lebanon, Liberia, Libya, Ukraine, Moldova, Monaco, Montenegro, Myanmar, North Korea, Palau, Panama, Paraguay, Russia, Saint Lucia, Samoa, Seychelles, South Sudan, Sudan, Syria, The Central African Republic, Timor-Leste, Trinidad and Tobago, US Virgin Islands, Uzbekistan, Vanuatu, and Zimbabwe are eligible to participate.
---
Prizes
If you succeed, you'll be one of the winners to receive a reward:
Grand Prize (1): Trip to Paris for Fashion Week from September 29, 2023 to October 1, 2023
Fashion Category:
1st Prize (1): $2,000 USD
Honorable Mention (2): $500 USD
Makeup Category:
1st Prize (1): $2,000 USD
Honorable Mention (2): $500 USD
You may win both the Grand Prize and a prize from one of the categories, but are not eligible to win both the Beauty and Fashion Category prizes.
---
How to enter
Download and create your effect using Effect House.
On the Publish Effect form, complete the required fields and select Fashion Month Challenge under Challenge.
Click Next to review your submission.
Click Submit and you're all set!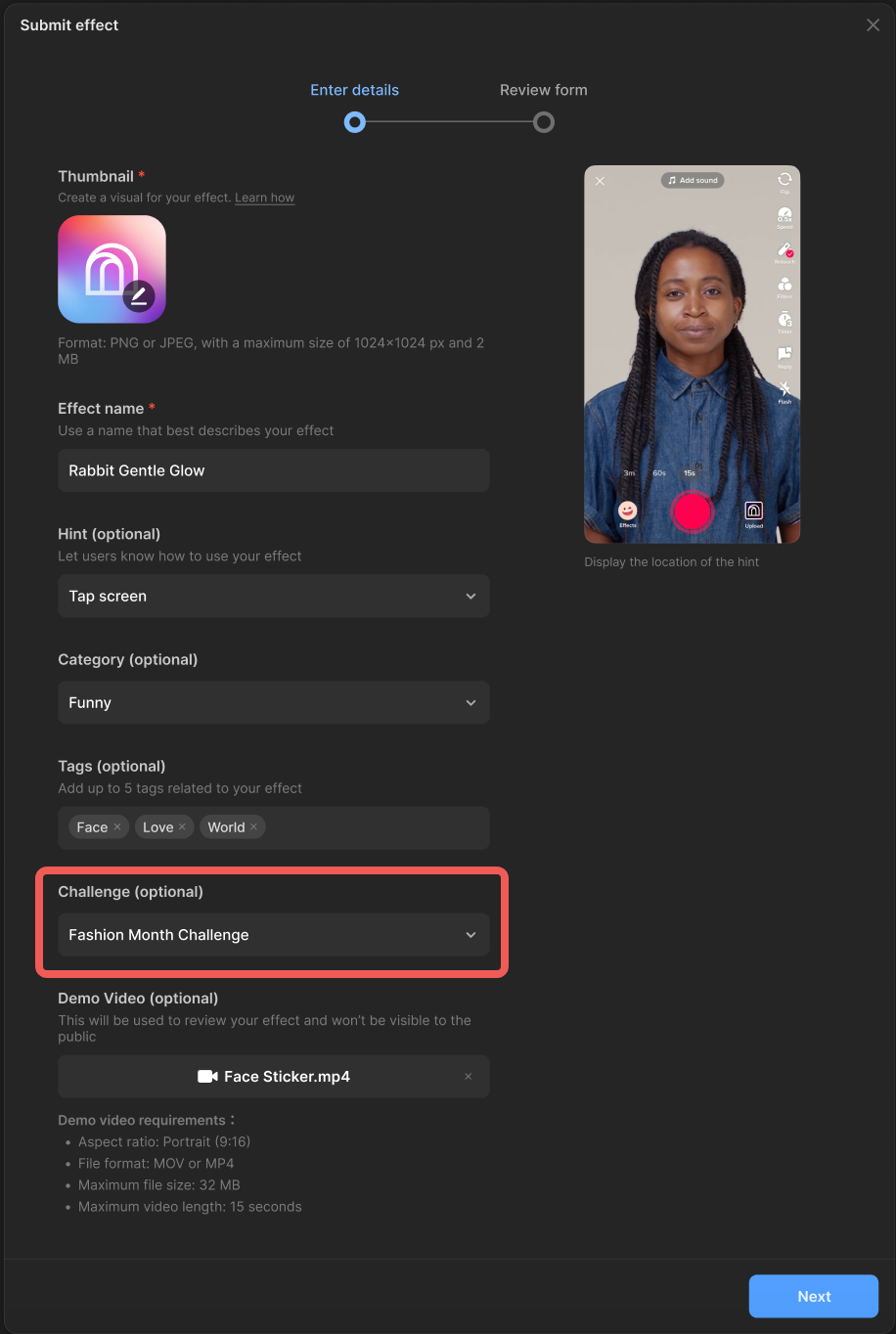 Challenge timeline
Submission start date: August 18, 2023 at 9:00 AM GMT
Submission end date: September 10, 2023 @ 11:59PM GMT
Winners announcement: September 14, 2023
---
Frequently asked questions
---
How do I know if I won the challenge?
---
Can I submit videos I've already published?
---
Can I submit more than one effect?
---
Visit Challenge Rules for applicable Program-specific provisions. No payment necessary. Click here for EEA-specific challenge rules. The Program starts on 18st August 2023 at 09:00 AM BST to 10th September 2023 at 23:59 PM BST. Open to legal residents of a country where Effect House and TikTok are available and who are at least 18 years of age. Winners will be selected by a panel of judges from TikTok and an external independent judge based on subjective and objective criteria. Username and profile picture of winner[s] will be displayed. Reward: Fashion Category winner (1) 2,000 USD, Fashion Category Runner Up (2) 500 USD, Beauty Category winner (1) 2,000 USD, Beauty Category Runner Up (2) 500 USD, Grand Prize Winner (1) 3 night stay in Paris (France) from (date-date) in a 4* Hotel or similar accommodation, including flights (with an estimated value of up to $4,000 USD). You may win both the grand prize and a prize from one of the categories, but are not eligible to win both the Beauty and Fashion category prizes. For Participants who enter multiple Entries, only the highest scoring effect will be taken into consideration.