Moment of Laughter
Creators, the Moment of Laughter Challenge has come to an end. Thank you for submiting all of your humorous effects! We're excited to share the winners of this challenge:
Challenge Champion: Nail it by @jonothanhunt
Excellent Effect Awards
Pink Glasses + Looping by @say7_c
Gorra De Hip Hop by @jahirsotomayorft
Dance Dance by @ty.taurus
Bus Indonesia by @ffebriyansyah
Funny kids by @nyynhung_7
Top Creativity Awards
bunny ear conmoew by @blingmaithoaii
Duck Face by @normalguyrob
Face Off 5 by @palestine_gaza_live
Banana Street by @dhawiaymen7
Baldski by @mohamedalimahmud
tóc chỏm by @bongbuibam
Charming by @jimthemim
Alien from mars by @bobthecatbtc
Fail Makeup by @syifizzlat
bald, big mouth by @riandersomc
Congratulations to all winners! The challenge sponsor will be in contact with you over the next few weeks to process your prize winnings. Stay tuned for our next challenge!
---
About this challenge
Can you bring your sense of humor to life with an effect? Show us your funniest character transformations, wackiest masks and accessories, and more!
Submit your effect by August 25, 2023 for a chance to win up to $2,500!
---
What we're looking for
Create a humorous effect! Here are are some ideas:
Funny character transformations
Wacky masks and avatars
Eccentric accessories
---
Eligible regions
This challenge is open to creators in the following regions:
Albania, Algeria, Andorra, Argentina, Austria, Bahamas, Bahrain, Barbados, Belgium, Belize, Bermuda, Bosnia and Herzegovina, Botswana, Brazil, Bulgaria, Canada, Cayman Islands, Chile, Columbia, Costa Rica, Croatia, Cyprus, Czechia, Denmark, Dominica, Dominican Republic, Ecuador, Egypt, El Salvador, Estonia, Faroe Islands, Finland, France, French Polynesia, Georgia, Germany, Gibraltar, Greece, Greenland, Grenada, Guadeloupe, Guatemala, Honduras, Hong Kong, Hungary, Iceland, Indonesia, Ireland, Israel, Italy, Jamaica, Japan, Jordan, Kazakhstan, Kenya, Kuwait, Latvia, Lesotho, Liechtenstein, Lithuania, Luxembourg, Malawi, Malaysia, Malta, Mauritius, Mexico, Monaco, Morocco, Mozambique, Netherlands, New Caledonia, New Zealand, Nicaragua, Norway, Oman, Panama, Peru, Poland, Portugal, Qatar, Republic of Moldova, Romania, Réunion, Saint Kitts and Nevis, Saint Lucia, San Marino, Saudi Arabia, Senegal, Serbia, Seychelles, Slovakia, Slovenia, South Africa, South Korea, Spain, Sweden, Switzerland, Taiwan, Thailand, The Philippines, Trinidad and Tobago, Turks and Caicos Islands, United Arab Emirates, United Kingdom, United States, Uruguay, Venezuela, Vietnam
---
Prizes
If you succeed, you'll be one of the winners to receive a reward:
Challenge Champion (1): $2,500 USD
Challenge Winners (5): $1,500 USD each
Top Creativity Awards (10): $100 USD each
Rewards will be paid through the winners' TikTok account.
Winning effects are selected by a panel of judges based on subjective and objective criteria. Please refer to our Terms & Conditions for details.
---
How to enter
Download and create your effect using Effect House.
On the Publish Effect form, complete the required fields and select Moment of Laughter under Challenge.
Click Next to review your submission.
Click Submit and you're all set!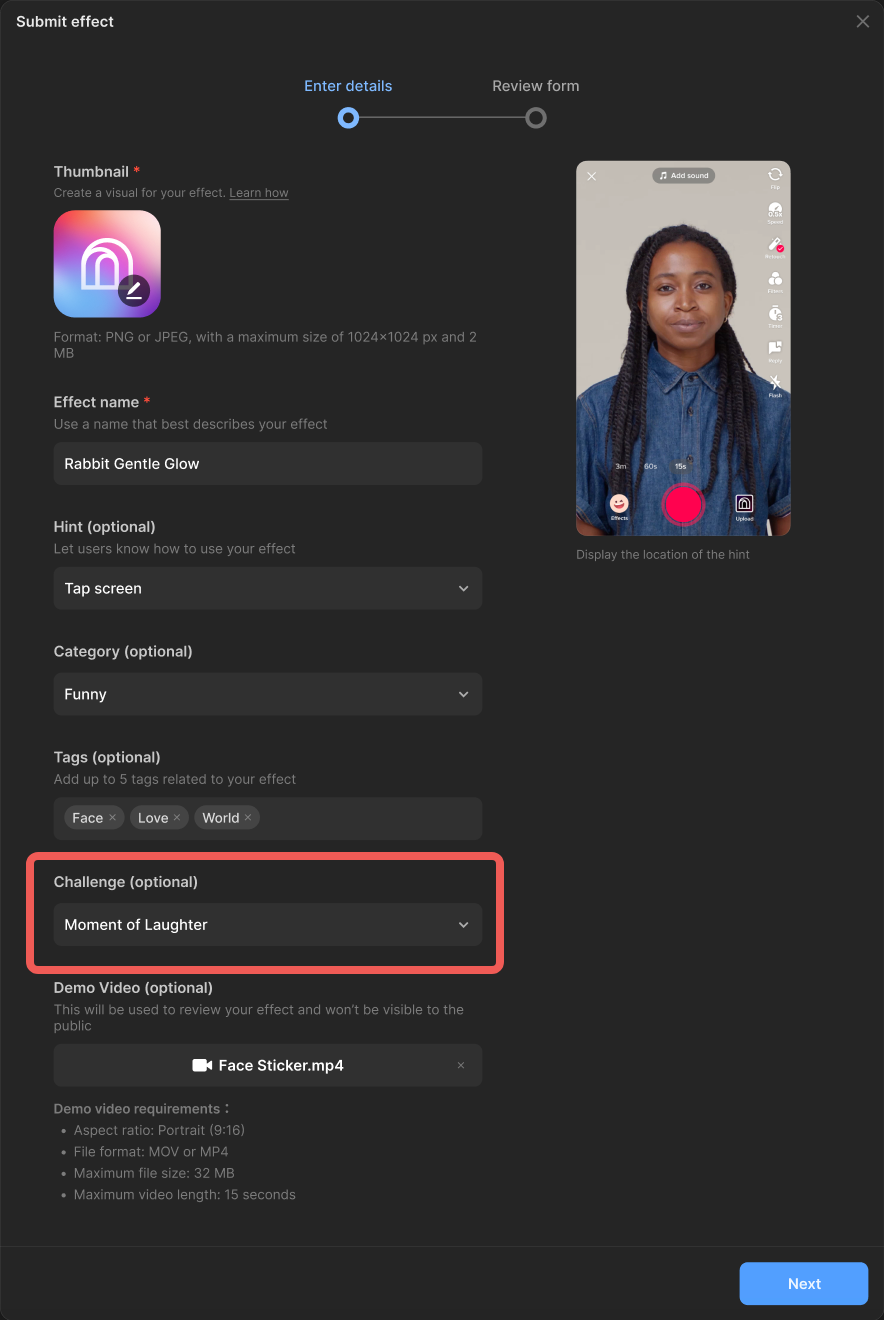 Challenge timeline
Submission start date: July 26, 2023 at 10:00 AM PST
Submission end date: August 25, 2023 at 11:59 PM PT
Winners announcement: September 5, 2023
---
Frequently asked questions
How do I know if I won the challenge?
---
Can I submit effects I've already published?
---
Can I submit more than one effect?
---
Can I get more than one prize?
---
Visit here for full terms and conditions. No purchase necessary, void where prohibited. The Challenge Period is between July 26, 2023 PST and Aug 25, 2023 PST. Open to legal residents of a region where Effect House and TikTok are available and who are at least 18 years of age, or the age of majority, at the time of entry. Enter by submitting an effect as described in the terms between July 26, 2023 PST and Aug 25, 2023 PST. 16 winner[s] will be selected by a panel of judges based on specific criteria set out in the terms. Username and profile picture of winner[s] will be displayed. Reward: One (1) Challenge Champion: $2500 USD; Five (5); Excellent Works: $1500 USD each; Ten (10) Top Creativity Awards: $100 USD each. Limit of 1 Reward per person/Challenge. Odds of winning depend on the number of eligible entries received.
The European Economic Area (EEA):
Visit here for applicable Program-specific provisions.