The Exploding Kittens Challenge
The submission period for this challenge has closed. Stay tuned for our winner announcement coming soon!
---
About this challenge
This challenge is for anyone into kittens, goats, or winning $20,000! Exploding Kittens is the #1 most-backed project in Kickstarter history and since their launch, over 10 million people worldwide have blown up their game nights with this kitty-powered version of Russian Roulette.
To play Exploding Kittens you need to be chaotic, strategic, and ready to have a good time. The same set of skills will also help you make dynamite art for the Exploding Kittens Challenge! We're teaming up with Effect House to put your creativity to the test. Do you have what it takes to make a unique and hilarious effect with Exploding Kittens' art? The winners will split a $20,000 prize pot and have a lifetime of fame, glory, and emotional laser beams all to themselves!
---
What we're looking for
Game Effects: Create a challenge, mini game or interactive effect inspired by Exploding Kittens.
Pet Tracking: Use pet tracking features in Effect House to bring your own furry friends into the world of Exploding Kittens.
Character/Avatar Effects: Use features like Head Tracking and Body Avatar Drive to transform the user into Exploding Kittens characters.

Note
Use of the Exploding Kittens provided assets and logo is strongly encouraged and will be considered heavily when judging entries.
Pending confirmation of eligibility, potential prize winners will be selected by Exploding Kittens or their Agent or a qualified judging panel from among all eligible entries received based on the following judging criteria:
25% – Originality
25% – Composition
50% – Adherence to Contest Theme
---
Eligibility
To enter, you must be (a) a legal resident of a country where the TikTok application is available, and (b) eighteen (18) years of age or older. If you are eighteen (18) years of age or older but have not reached the age of majority in your legal place of residence, then you must have consent of a parent/legal guardian.
Employees and directors of Exploding Kittens, TikTok, and their respective Affiliates and advertising agencies are not eligible, nor are persons involved in the execution or administration of this promotion, or the family members of each above (parents, children, siblings, spouse/domestic partners, or individuals residing in the same household). Void in Cuba, Iran, North Korea, Sudan, Syria, Region of Crimea, Russia, and where otherwise prohibited by law.
---
Prizes
If you win, you'll be rewarded one of the 18 cash prizes (USD):
$5,000 (1)
$3,000 (1)
$2,000 (1)
$1,000 (5)
$500 (10)
---
How to enter
Download and create your effect using Effect House.
On the Publish Effect form, complete the required fields and select Exploding Kittens under Challenge.
Click Next to review your submission.
Click Submit and you're all set!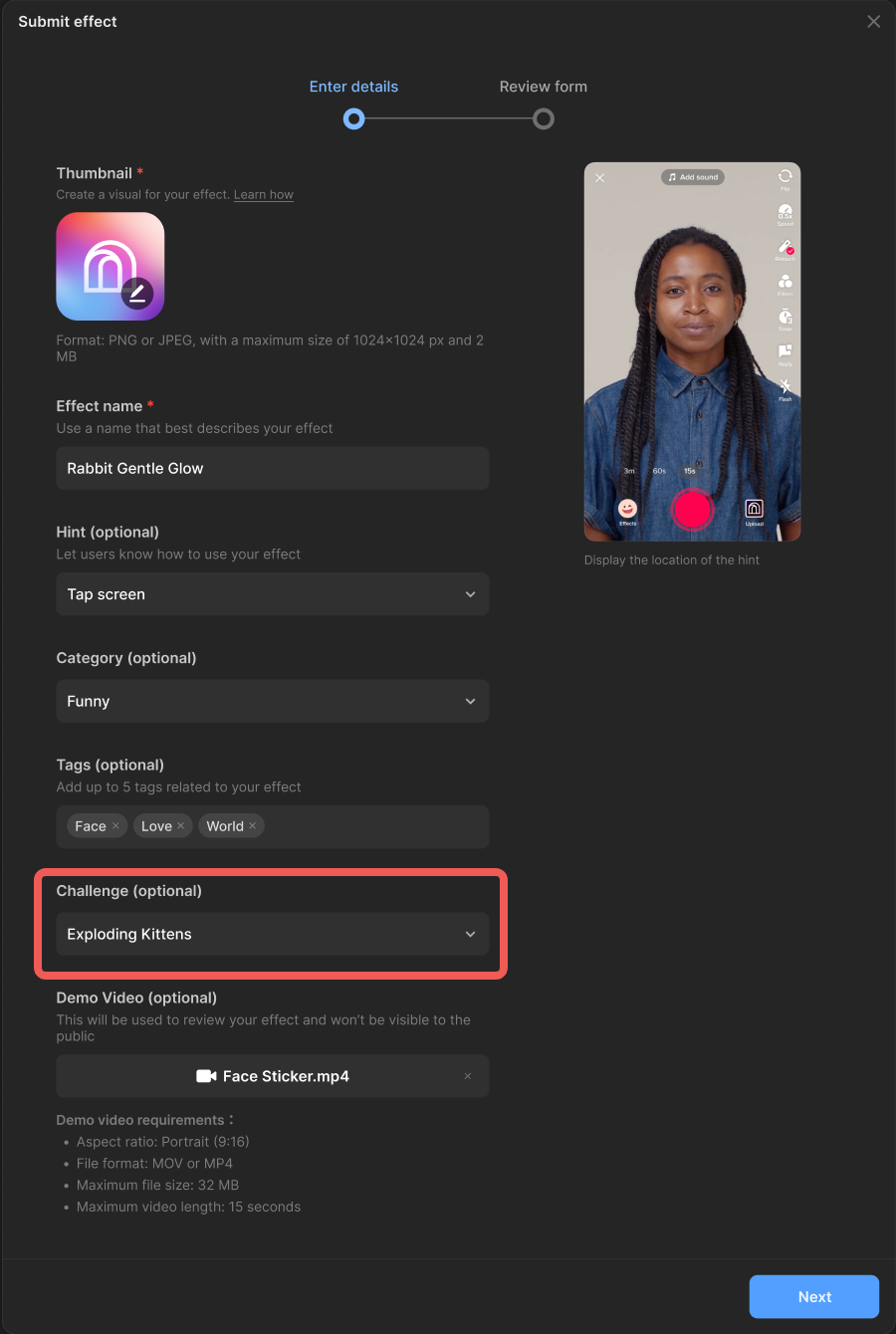 Challenge timeline
Submission start date: November 1, 2023 @ 00:01 AM PST
Submission end date: November 26, 2023 @ 11:59 PM PST
Winner announcement date: On or around December 11, 2023
---
Tips
Visit the new Exploding Kittens category in the Effect House Asset Library to access 2D and 3D assets you can use for this challenge!
Please update to the latest version of Effect House to access the Exploding Kittens asset library and check back often, as we'll be adding more assets throughout the challenge.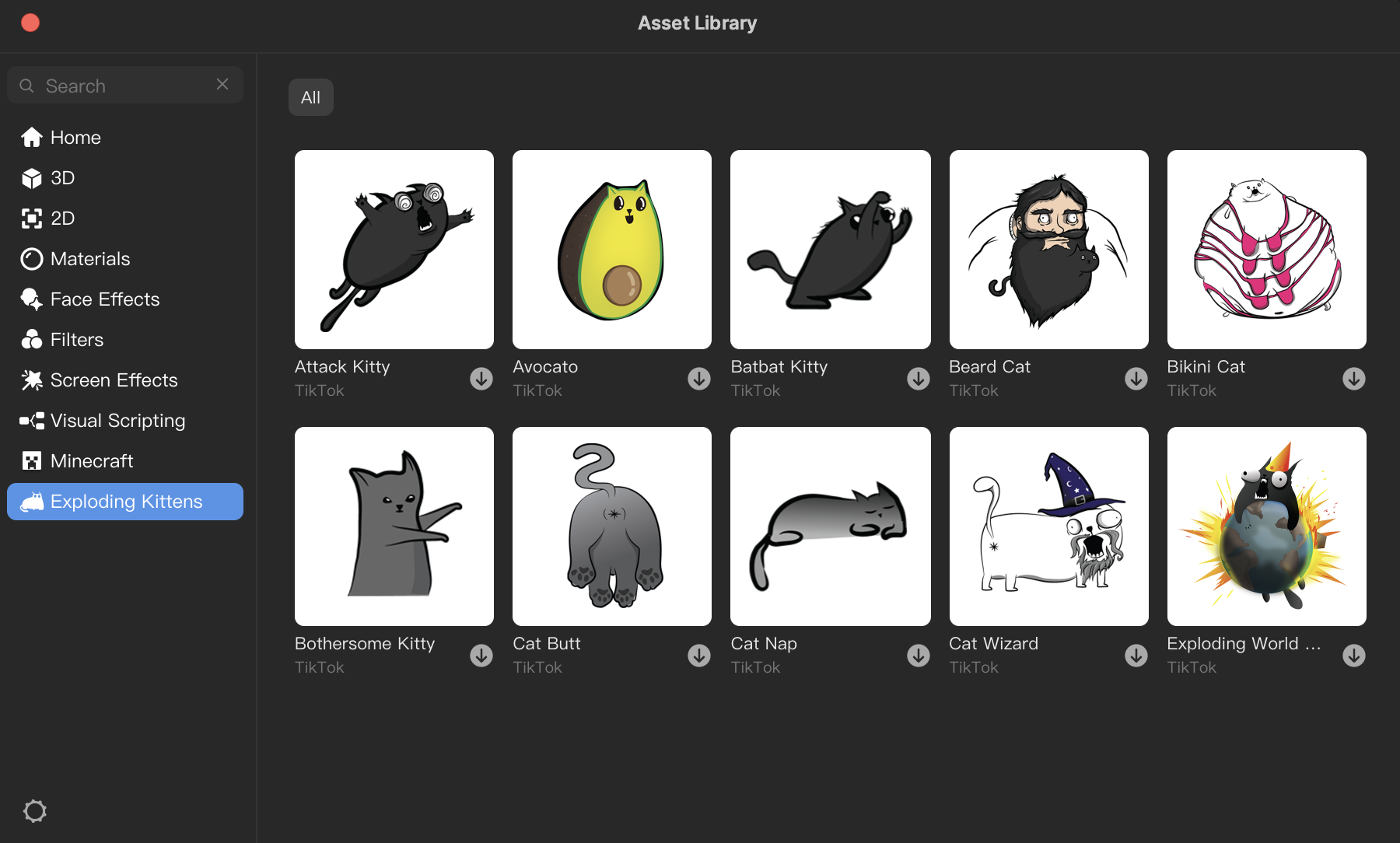 Note
You do not need to use the provided assets to win a prize.
---
Frequently asked questions
---
How do I know if I won the challenge?
---
Can I submit effects I've already published?
---
Can I submit more than one effect?
---
How will I receive my cash reward?
---
This challenge is organized by Lenslist and Exploding Kittens. Visit here for full terms and conditions. No purchase necessary, void where prohibited. The Challenge Period is between 00:01 AM, November 1st, 2023 in Pacific Time (UTC-7) and 11:59 PM, November 26th, 2023 in Pacific Time (UTC-7). Open to legal residents of a region set out in the terms and who are at least 18 years of age, or age of majority in applicable jurisdiction, at the time of entry. Enter by submitting an effect as described in the terms between 00:01 AM, November 1st, 2023 in Pacific Time (UTC-7) and 11:59 PM, November 26th, 2023 in Pacific Time (UTC-7). Eighteen (18) winners will be selected by a panel of judges based on specific criteria set out in the terms. Selection of winners will occur between 11:59 PM, November 26th, 2023 in Pacific Time (UTC-7) and 11:59 PM, December 10th, 2023 in Pacific Time (UTC-7). TikTok handle of winner[s] will be displayed on or around December 11th, 2023 in Pacific Time (UTC-7) on the Challenge page("Winner Announcement"). Reward: This event features a 20,000USD prize pool. Limit of One(1) prize per person.