Getting Started With Effect House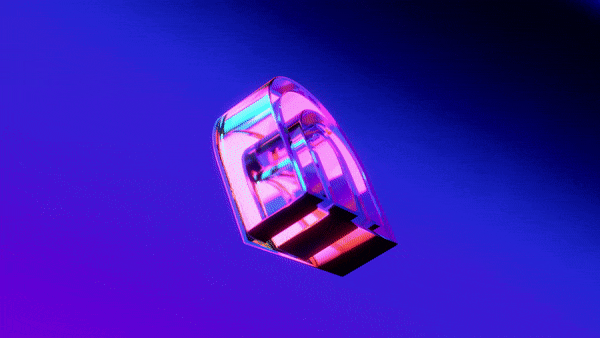 Welcome to Effect House! In this guide, you will get an overview of the Effect House interface and the rich library of guides, tutorials, and templates for creating an effect. Our goal is to help you jump start the effect creation process so that you can publish and share your effects with the TikTok community.
We're excited to share all the ways you can create augmented reality (AR) effects for TikTok!
What Are Effects on TikTok?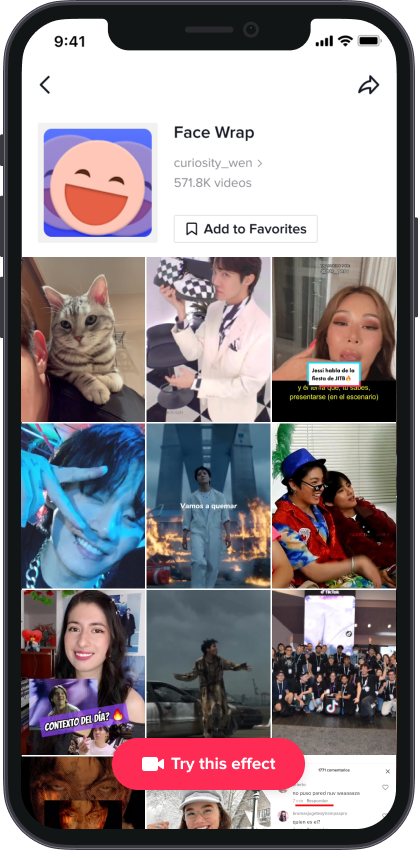 Creative Effects are a big part of what makes it fun to create on TikTok. Whether you're teleporting into new worlds with Green Screen or freeze-framing with Time Warp Scan, Creative Effects empower creators to express themselves, entertain, and share stories with the TikTok community through a wide array of engaging and immersive formats.
Creativity is at the heart of the TikTok experience. To expand what's possible on TikTok and take content creation to the next level, we launched Effect House — an effect development platform that empowers effect creators to build AR experiences and effects for our global community.
Effect House aims to inspire a new wave of storytelling and entertainment across TikTok and make the effect creation process accessible to anyone.
What Is Effect House?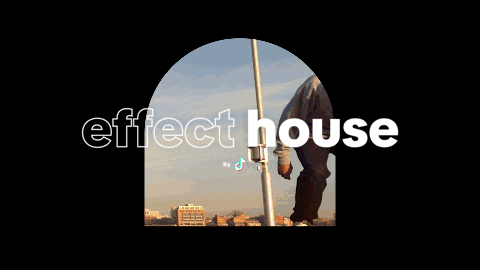 Effect House offers powerful tools that lets anyone create AR experiences on TikTok. You can combine different assets and interactions to build virtual elements that can be applied to a person's face, body or environment. Once created, you can publish and share your AR effects with the TikTok community to experience.
Effect House gives creators the opportunity to reach hundreds of millions of users around the world and a chance to drive trends that define culture.
We are constantly evolving and improving Effect House to make sure its tools continue to support our effect creators. To see the scope and latest bug fixes, you can check out the Effect House release notes.
Get to Know the Effect House Interface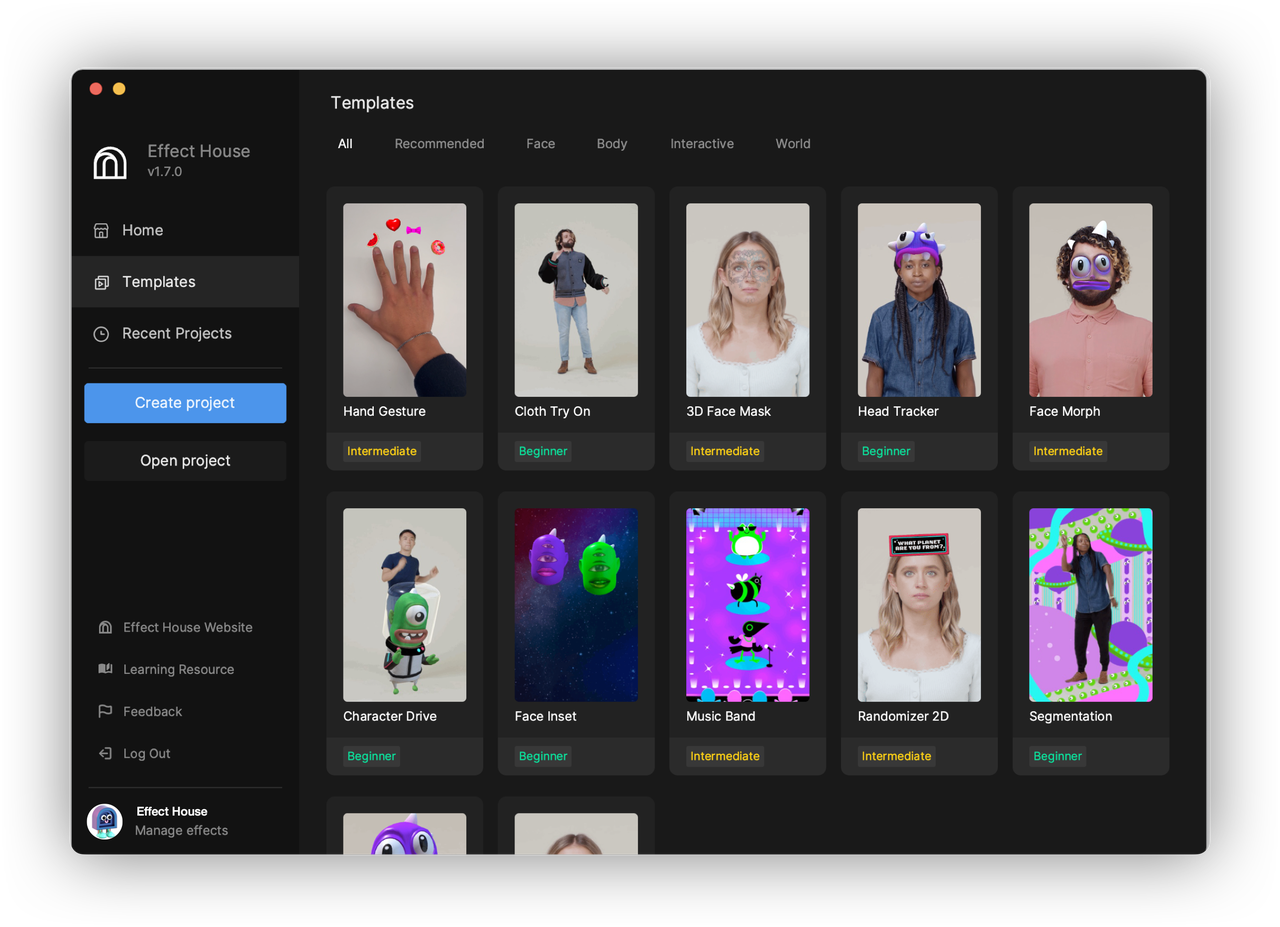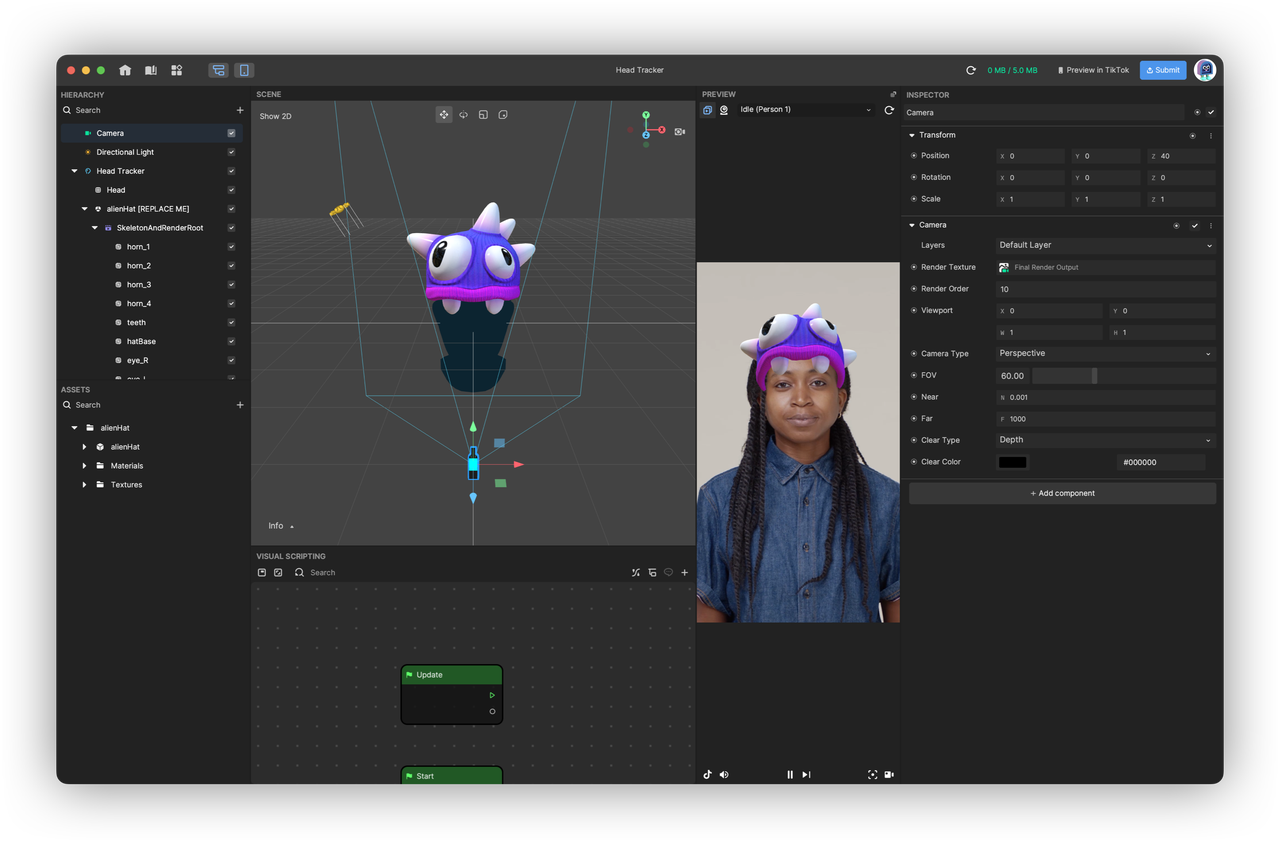 Homepage
When you open Effect House, you will see the homepage (not to be confused with the web's homepage). Here you can find templates to help you get started on your effect.
Hierarchy Panel
The Hierarchy panel is where you can see all the scene objects you've added to your project. Click the Add button [+] in the Hierarchy panel to explore all the built-in objects.
Assets Panel
The Assets panel is where you can add an original or built-in texture, material, 3D object, and audio. This panel stores all the elements you may need to build an effect.
Scene Panel
The Scene panel shows a 3D or 2D view of all the objects added to an effect. You can transform objects and control the view here.
Preview Panel
The Preview panel mimics a phone, allowing you to see how your effect will look when used in TikTok. Your effect is applied to a selected preview video.
Preview in TikTok
Once you are content with your effect, you can preview it in TikTok by scanning the generated QR code. You must scan the QR code using the scanner feature in your TikTok app, and not your regular phone camera. Once scanned, you can test your effect on your phone as if it is a live effect.
Inspector Panel
View and edit a selected object's components and properties in the Inspector panel.
Visual Scripting Panel
Visual Scripting is similar to text scripting, like Javascript or C++, but is executed through visual blocks called nodes. The nodes are linked together with connectors to create a path of logic.
Submit an Effect
Once your effect is complete, you can submit it to be sent to our QA and TnS teams for review. You should hear back with a response in approximately three business days.
Submit Feedback
If you experience issues, you can submit a ticket through our in-tool feedback form, which will be sent to our support team. Learn more about getting support.
Learn How to Create Effects With Effect House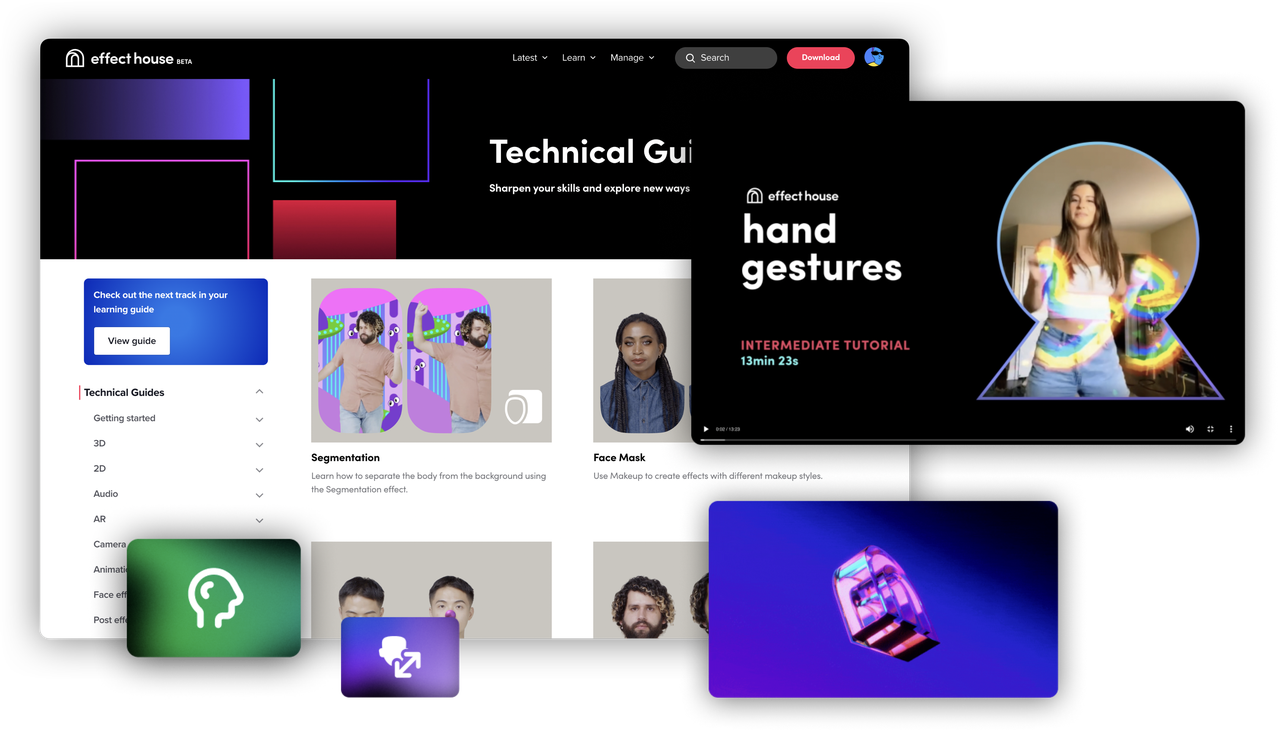 Explore the following learning resources to make the most out of Effect House.
Technical Guides: Find every Effect House feature guide here with demo projects you can download.
General Guides: Get the basics of effect creation, publishing, sharing, and managing processes with guidelines and best practices.
Visual Scripting: Use nodes and variables to create complex logic for an interactive effect.
Effect House Learning Guide: Get a personalized list of learning resources, including technical guides, tutorials, and more. Learn how you can make learning fun!
Effect House Badges: Track your creator progress with badges at each milestone. Learn about the different milestones!

Want a quick overview on effect creation? Check out this guide!
Join Our Community
In addition to these learning resources, you can also join the Effect House Discord channel to connect with other creators and get more information. We announce product updates, contests, events, and even host live demos and office hours. It's where our creators from around the world come together to brainstorm ideas and showcase the latest projects they're working on. Make sure to verify your identity once you join!
Have any questions or feedback? Head over to the ✋ │ ask-a-question channel in the Effect House Discord server. We welcome any and all feedback to help us improve Effect House.
Want more? Check out our Youtube channel and follow us on TikTok, Instagram, and Twitter to stay up to date with Effect House!
We look forward to seeing what you create!