Version: 3.5.0
Crash Course x #MyFirstTikTokEffect Mission

Introducing Effect House Crash Course and #MyFirstTikTokEffect Mission! Join us for three weeks of learning and engagement. Stay tuned for daily tutorial video postings during Week 1, and participate in our live workshops during Week 2 and Week 3.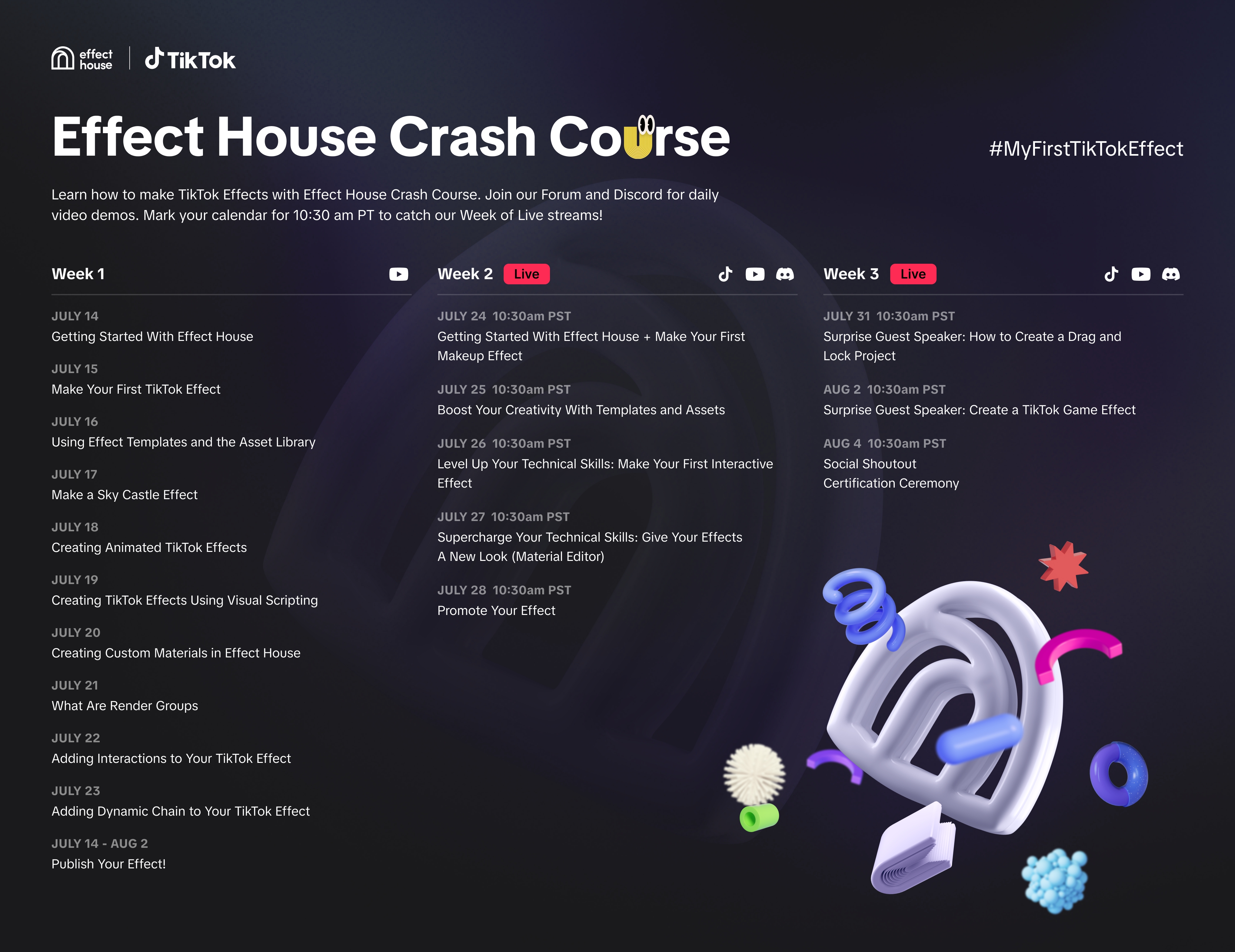 There are three steps to learn, create, and get rewarded for making your first TikTok effect.
Step 1: Watch Crash Course Videos​
Watch the Effect House Crash Course videos. Learn TikTok effect basics with 10 step-by-step videos to guide you. Whether you're a complete beginner or an AR wizard, we got you! Check our YouTube channel for videos uploaded throughout the week, and our Crash Course webpages for extra guidance on the video topics.
Step 2: Join 7 Days of Live Workshops​
Tune into 7 days of live workshops! Join us on YouTube, TikTok, and Discord for live workshops and Q&A sessions hosted by Effect House pros.
Respond to daily prompts in our Forum to unlock certification!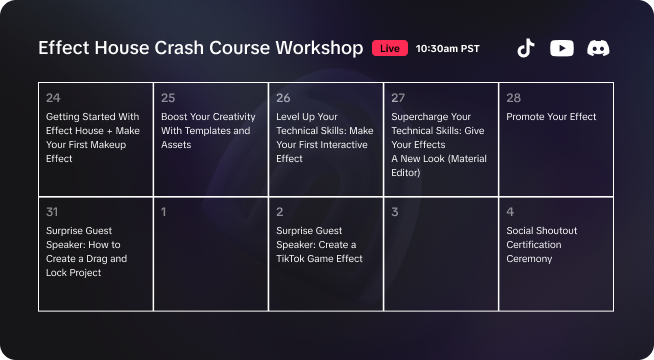 Make sure to subscribe to the Crash Course Calendar so you don't miss the awesome Live Workshops.
Step 3: Enter the Mission​
After taking the Crash Course, enter the #MyFirstTikTokEffect Mission for a chance to win! Submit your effect to the #MyFirstTikTokEffect Mission and post a TikTok video promoting your effect for a chance to win.
Prizes​
New Creator Bonus: A $10 USD virtual gift card (varies by region). Learn more.
Rookie Rockstar Awards: Select creators will be featured on Effect House's official website, newsletter, and other social channels.
How to Enter​
Learn the basics of Effect House and effect creation by attending our Crash Course and LIVE workshops.
Create and submit your first effect. On the submission page, enter MyFirstTikTokEffect under the Tags (optional) section.
Share your effect by posting a TikTok video using your effect with the hashtag #MyFirstTikTokEffect.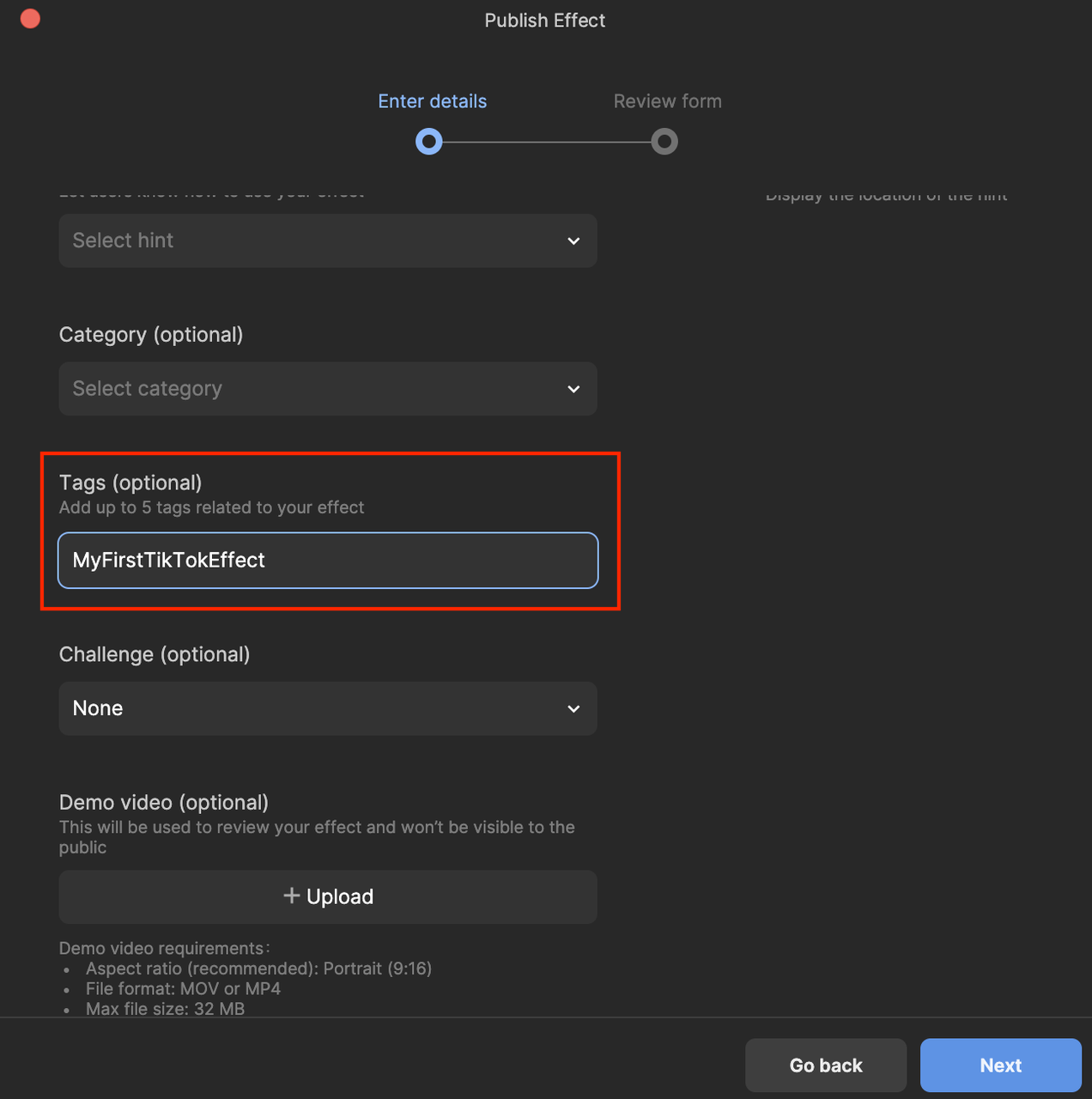 Mission Timeline​
Submission start date: July 14, 2023 @ 8:00 PM PT
Submission end date: August 2, 2023 @ 8:00 AM PT
Certification Ceremony & Social Shoutout: August 4, 2023 @ 10:30 AM PT