Share Your Effect
Don't forget to share your effect once it's active on TikTok! There are several ways you can tell your friends, followers, and the TikTok community about your creation.

Tip
Anyone can see and use your effect after it's active, but you'll need to have your profile visibility set to public for users who don't follow you to see your profile page (including all the effects you've created).
Create a TikTok Video With Your Effect
Let the world that you've created an effect! Creating a TikTok video using your effect is a fantastic way to share your effect with the TikTok community and encourage people to use it.
Learn more about how you can boost your effect performance.
Share Your Effect Outside of TikTok
You can also share your effect outside of TikTok. Sending your effect to family and friends can help get your effect featured in more videos.
Share Effect QR Code or Link
From the Manage page on the Effect House website, click on the action menu of the active effect that you'd like to share, then click on Share. This will open the QR code of the effect, which you can share or save to your device.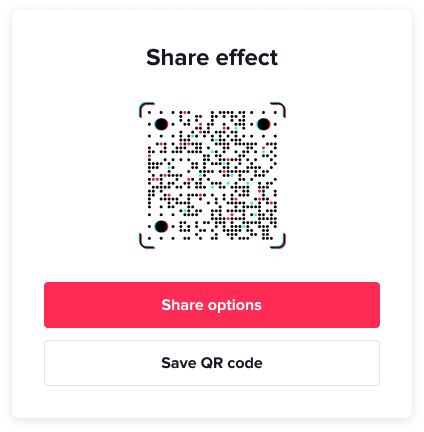 Clicking the Share options button allows you to select the sharing method.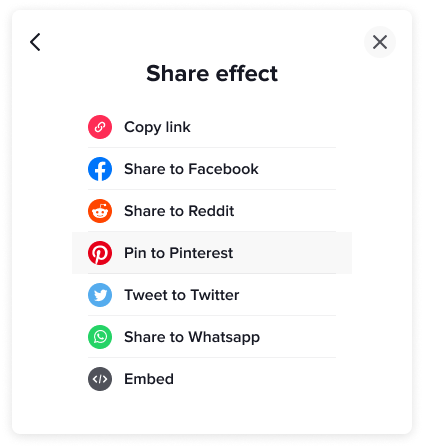 Users who scan the effect QR code or click on the effect URL will land on the effect's detail page on TikTok. Check out the View your effect on TikTok guide for more info on the effect's detail page.
Other Ways to Share Your Effect
Get creative in sharing your effect! A few ideas for other ways to share your effect:
Profile Page Link
Add your effect URL to your profile page on TikTok or other media platforms where you're active.
Partner With Creators
Collaborate with creators in the TikTok community, especially those whose content aligns with the category or features of your effect. For example, a creator who posts on beauty and skincare may be a great fit for a makeup effect.
Hashtag Challenge
Create your own hashtag challenge through your TikTok video using your effect!