Submit Your Effect
Finished creating your effect? Submit your effect for review before it gets officially published on TikTok!
Prepare and Upload Your Effect
Before you submit your effect, make sure it follows our Effect Guidelines. When you're ready to submit your effect, click the Submit button on the upper right of the main editor bar.

This will prompt a window for you to input some basic public information about your effect: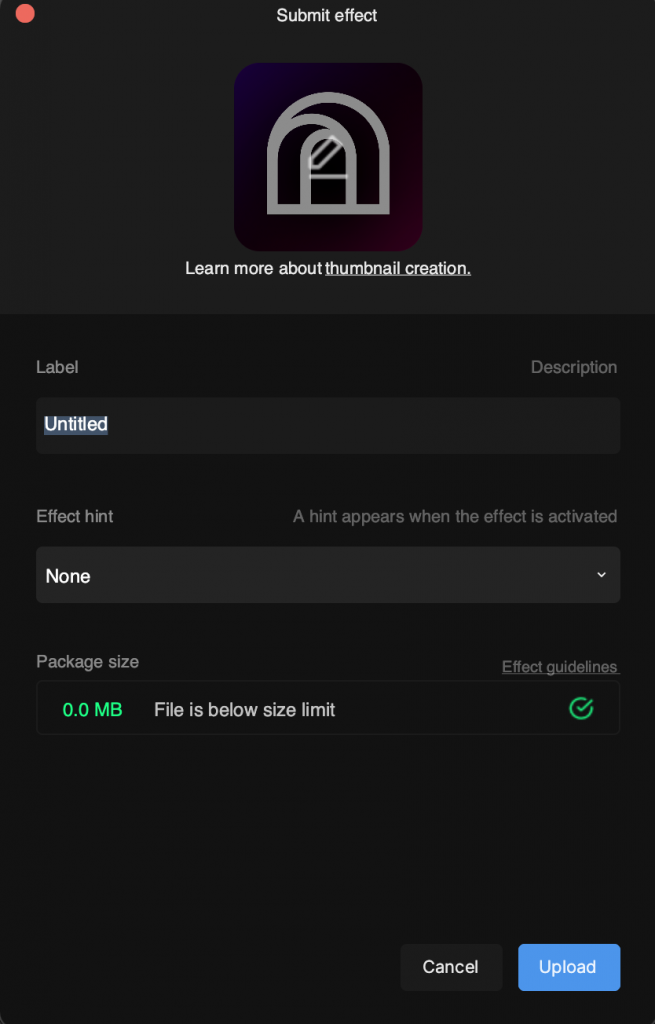 Effect icon (required)
Upload an icon for your effect. See the Thumbnail Creation guide for more info about creating your icon. Icons also need to adhere to our Effect Guidelines.
Effect name (required)
Give your effect a name. Note that each effect you submit needs to have a unique name (max 25 characters). Names also need to adhere to our Effect Guidelines.
Effect hint (optional)
You can select an optional hint for your effect. This text will be displayed each time your effect is activated by a creator. If your effect is interactive, consider including a hint to help people understand how to use the effect. The following are available hints:
None
Tap screen
Open mouth
Try with friends
Show face
Blink
Wink
Turn up volume
Show an open palm
Point camera at dog
Point camera at cat
Point camera at dog or cat
Move eyebrows up and down
Smile
Point camera at sky
Point camera to the ground
Point camera at buildings
Pout lips
Show hand
Do a thumbs-up
Do a thumbs-down
Hold up index finger
Make a "V" with middle and index fingers
Hold up four fingers
Hold up pinky and index finger
Make a fist
Show full body
Tap to change
Tilt head
Move closer
Shake head
Nod head
Start recording
Point camera at a flat surface
Add sound from the TikTok Sounds Library
Move face closer to the camera
Move face farther from the camera
Move head around
Press and hold screen
Drag finger up or down
Drag finger left or right
Drag finger around
Use 1 finger to move, 2 fingers to rotate or adjust size
Make a happy face
Make a grumpy face
Make a surprised face
Make a grossed-out face
Make a scared face
Make a sad face
Blink left eye
Blink right eye
Make a heart with 2 hands
Make a finger heart
Tap image
Dance!
Show both hands
Select 15s video
Select 60s video
Select 3m video
Stay tuned for more hints!
You'll also be able to see whether your effect package size is below the size limit. If your effect is too large, check your imported assets and consider swapping some of them for smaller assets.
Once you're done, click the Upload button to continue to the next step. Your effect will then begin to upload.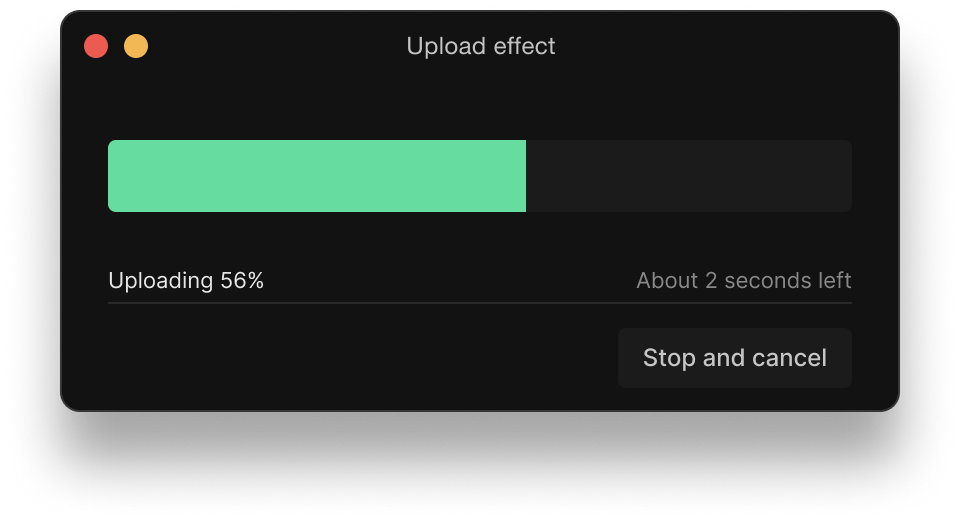 Confirm Your TikTok Account
In order to submit an effect with your TikTok account, you'll have to have logged into Effect House at least once before.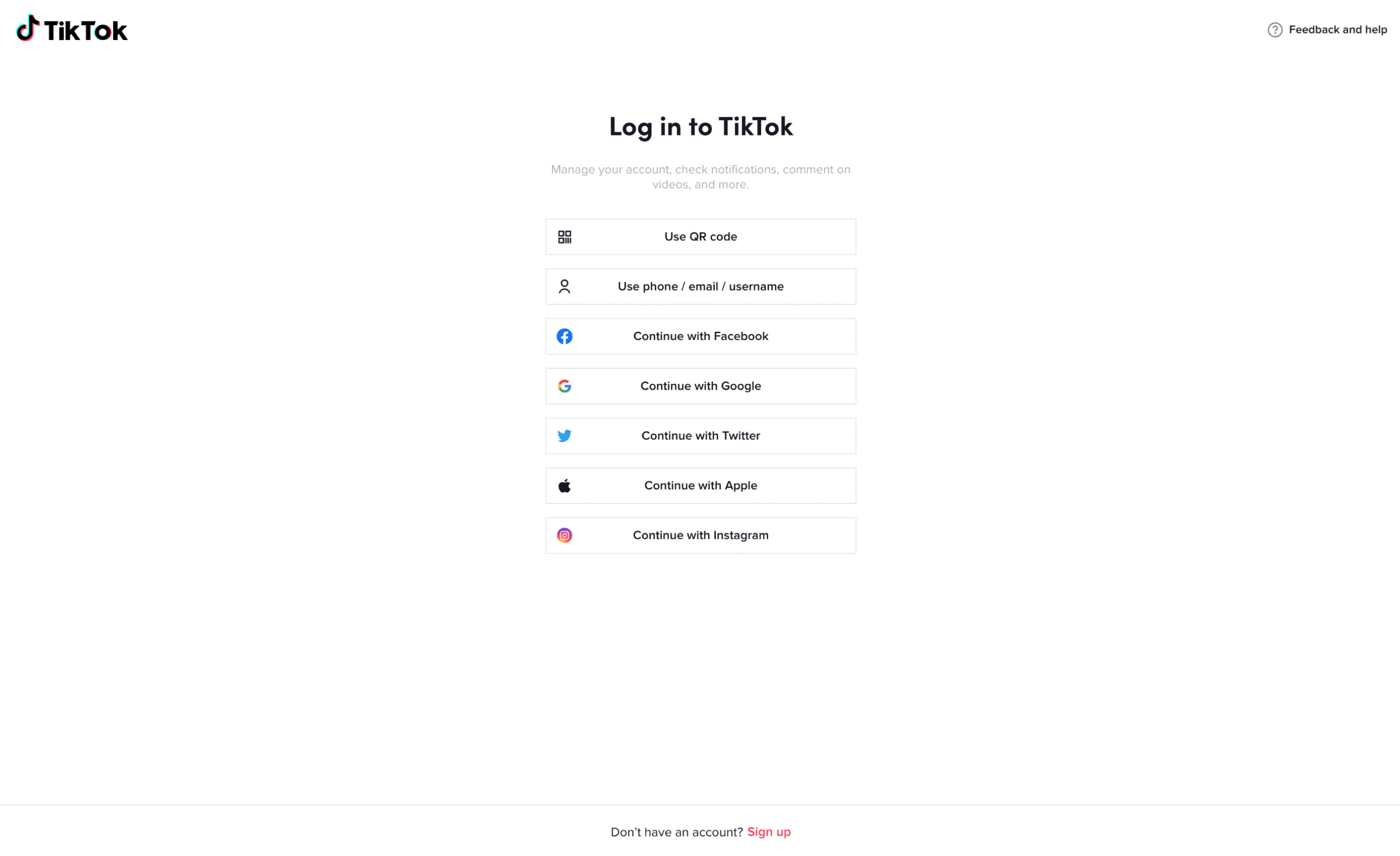 If you're logged into a different TikTok account on the web than the one you're using on the tool, you'll be asked to switch to the same account that is logged into Effect House.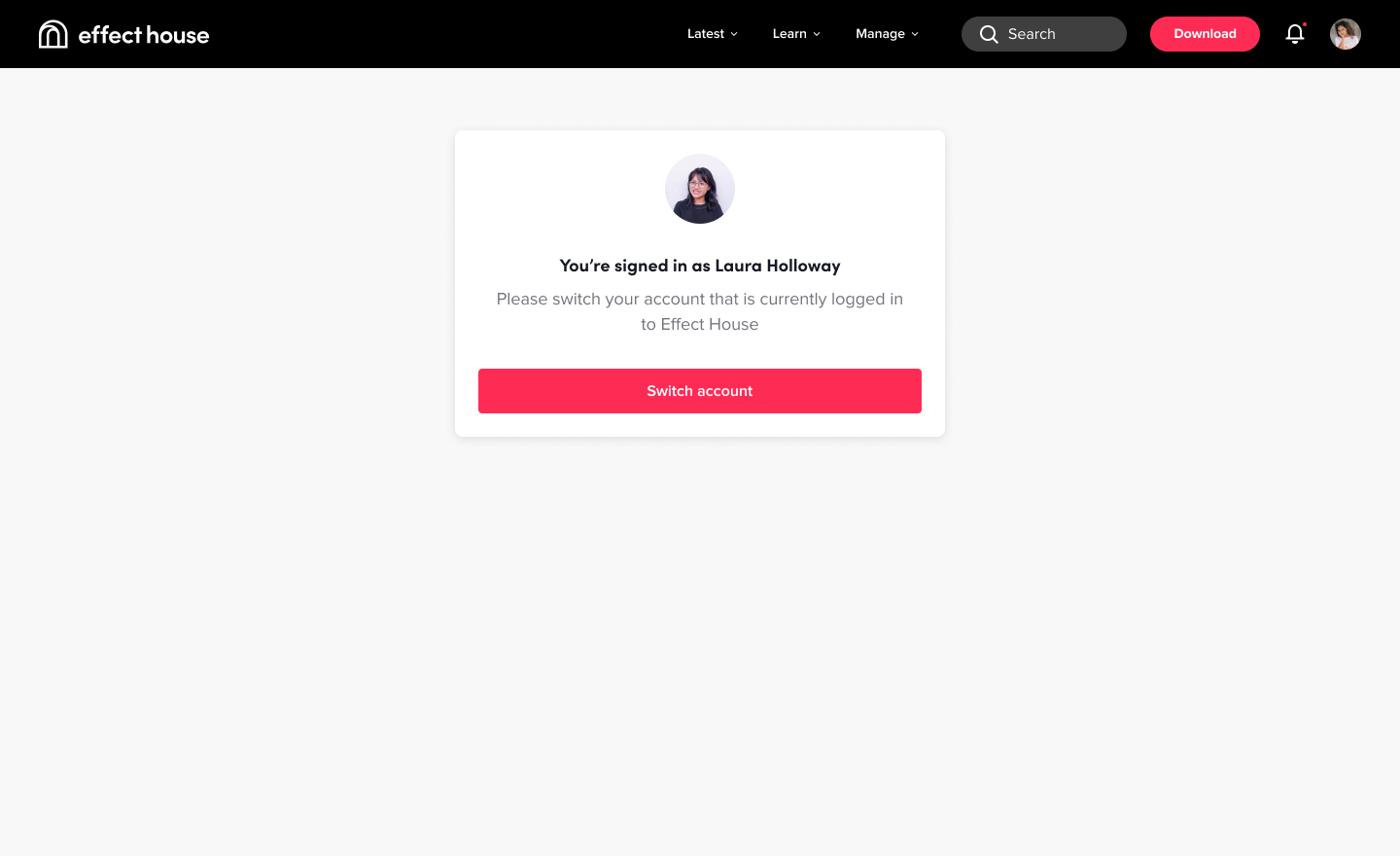 Select Your Effect Type
Once your effect is uploaded, a new browser window will automatically open. You can select whether you'd like to submit a new effect or update an existing effect.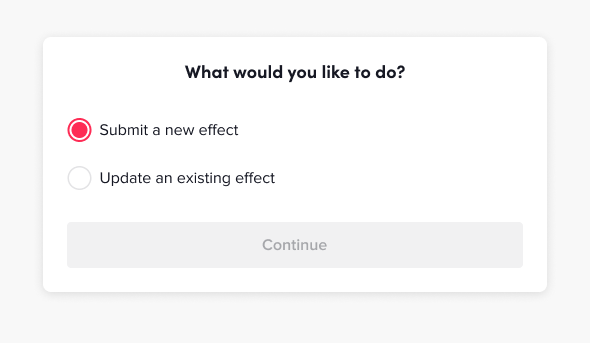 Update Your Effect
To submit an update to an effect, click Submit in Effect House and select Update an existing effect in the web portal. You may update effects with a Draft or Needs Revision status at any time. Active or Deactivated effects can only be updated within 6 months of the original effect's creation.
You can submit one update per effect. You can update the effect's package, name, icon, or all of the above. If you would like to update the effect again, you'll need to publish it as a new effect.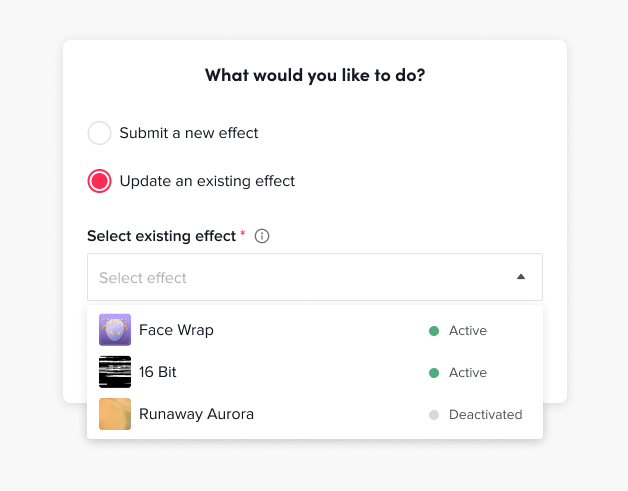 Complete Your Effect Details
Next, you'll see a submission page where you can provide a few more details about your effect before submitting it.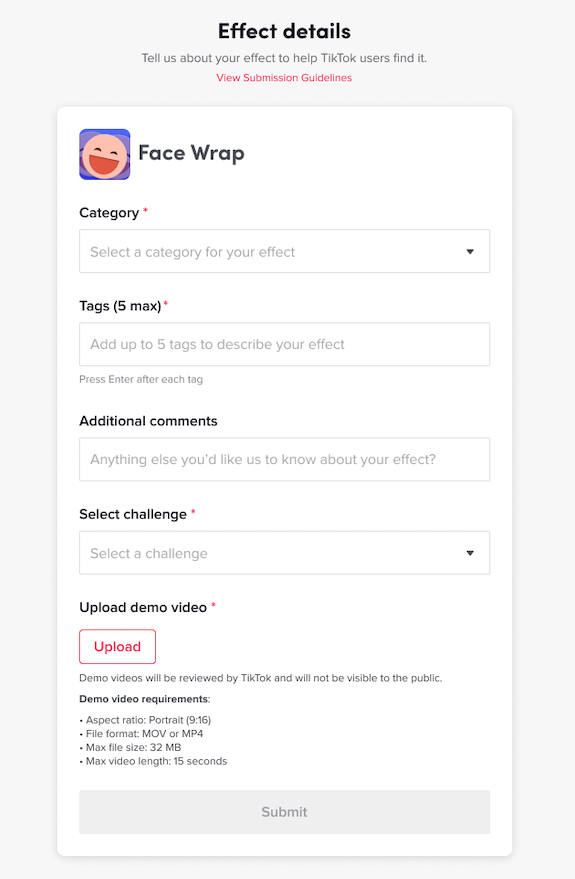 Category (required)
Select a category for your effect. Categories will help your effect get discovered on TikTok.
Tags (optional)
You can add up to five descriptive tags to help other creators find your effect. Tags should accurately represent the effect's content. Tags will not be displayed publicly, but need to adhere to our Effect Guidelines.
Additional comments (optional)
You can provide additional comments or descriptions to help the TikTok review team understand your effect. Comments will not be displayed publicly.
Select challenge
You can choose an active Effect House challenge to submit your effect to.
Upload demo video (required)
Upload a demo video for your effect. See the Demo video creation guide for more info about creating your demo video. Demo videos will not be displayed publicly, but need to adhere to our Effect Guidelines.
Click the Submit button to submit your effect!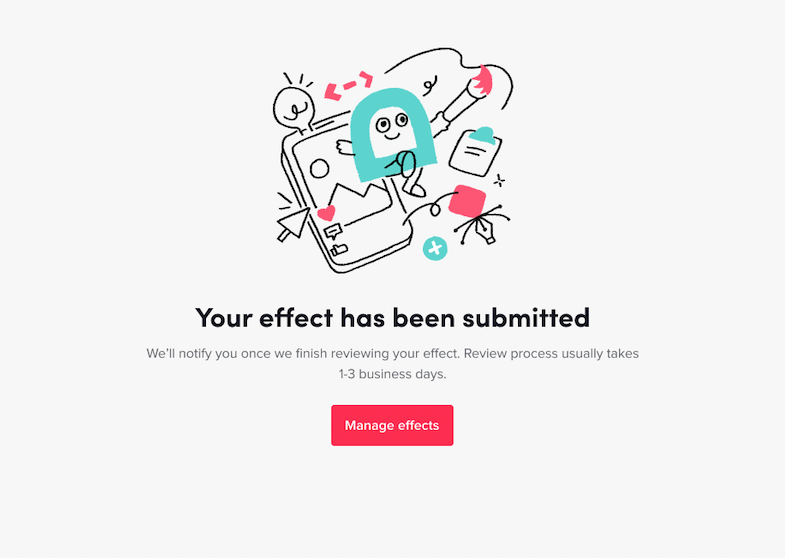 Once submitted, you'll see a success page with a preview QR code that you can use to preview your effect on TikTok.

Tip:
The QR code can only be used by you and is not accessible by other creators.
You can click Manage effects to visit your effect management page, where you can see all the effects you've submitted, track their statuses, and take actions. See the Manage your effect guide for more info about managing your effects.
Edit, Withdraw, or Resubmit Your Effect
An effect that is under review can be modified from your effect management page. Select Withdraw from review or Delete in the drop-down menu for the effect, and resubmit the effect from the tool.
If your effect was reviewed and requires revisions, you can make the necessary changes and resubmit the effect from Effect House.
You may resubmit an effect up to 10 times. After that, please create a new effect file to submit the effect again.