Face Mask

Atención
No todos los artículos enlazados en esta página están traducidos al español. Estamos trabajando en traducir todos los recursos educativos. ¡Gracias por vuestra comprensión!
Face Mask te permite crear efectos 2D en distintas áreas del rostro usando una malla facial.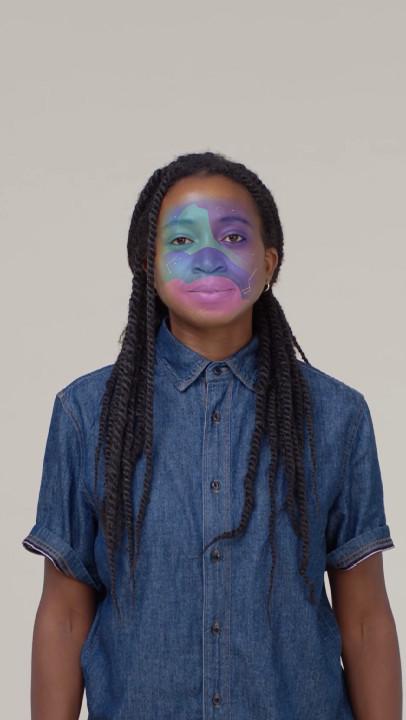 Añadir Face Masks
Para añadir un objeto de Face Mask, haz clic en + Add object > Face Effects > Face Mask en el panel Hierarchy.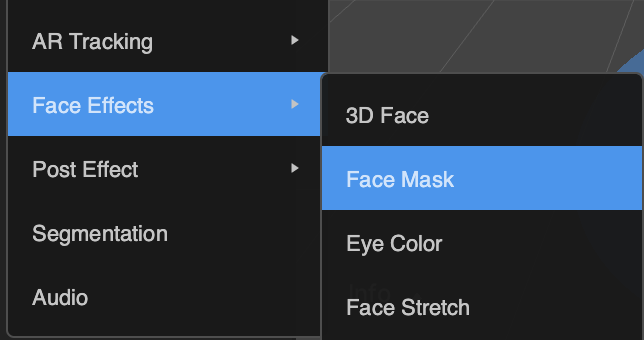 Consejo
No puedes modificar la transformación (Transform) de la Face Mask, pero puedes ajustar la posición de la Face Mask en relación con el rostro con la opción Offset del componente Face Mask.
Crea tu propia textura Face Mask
Con este conjunto de plantillas, podrás crear tus propias texturas. Incluye plantillas para todo el rostro, ojos, pestañas y labios. También proporciona distintos tonos de piel para que puedas probar tu efecto.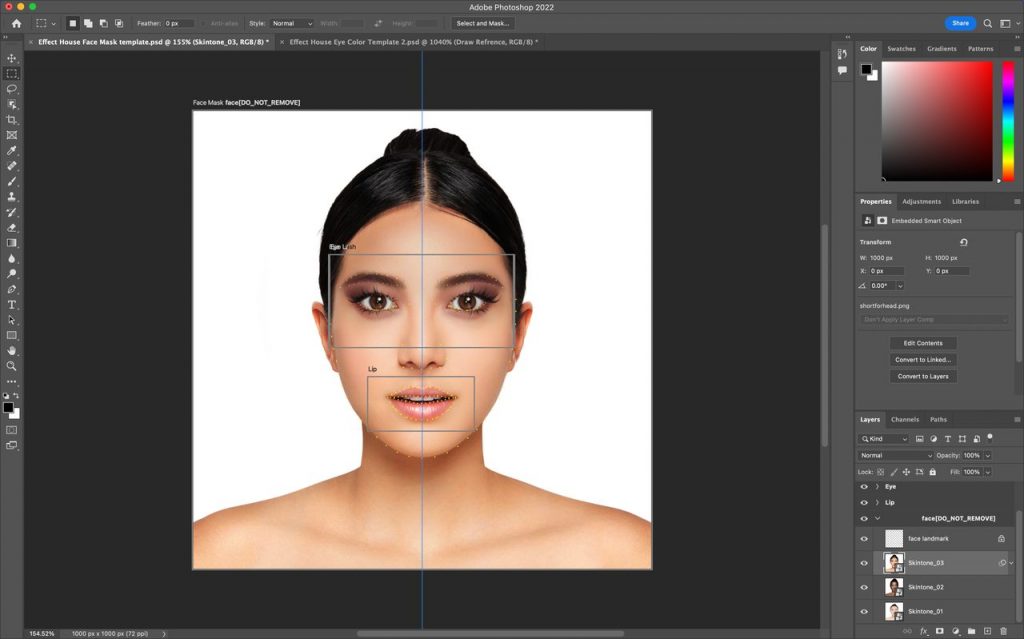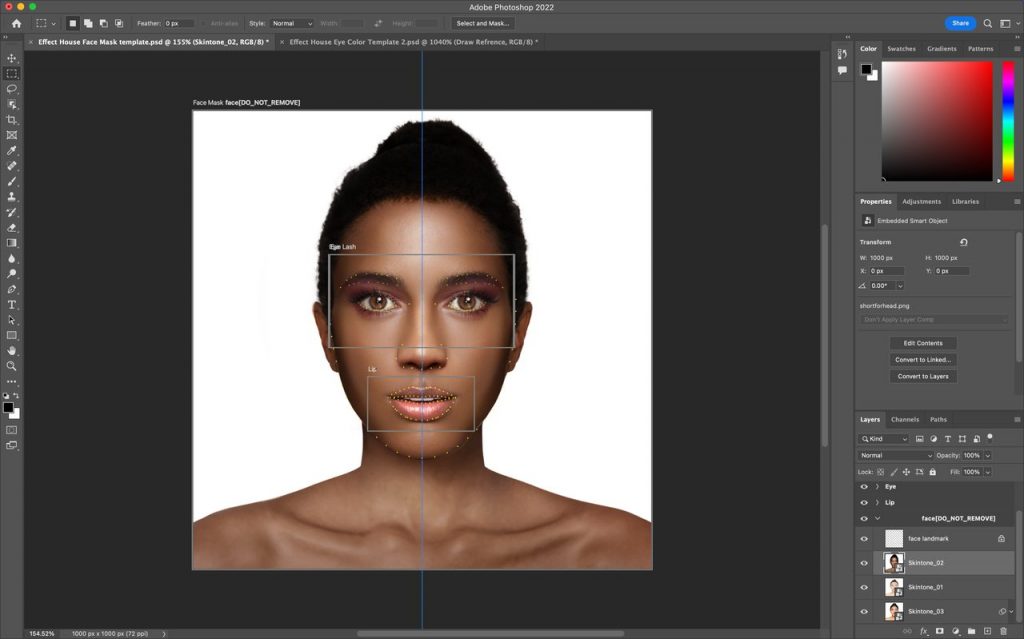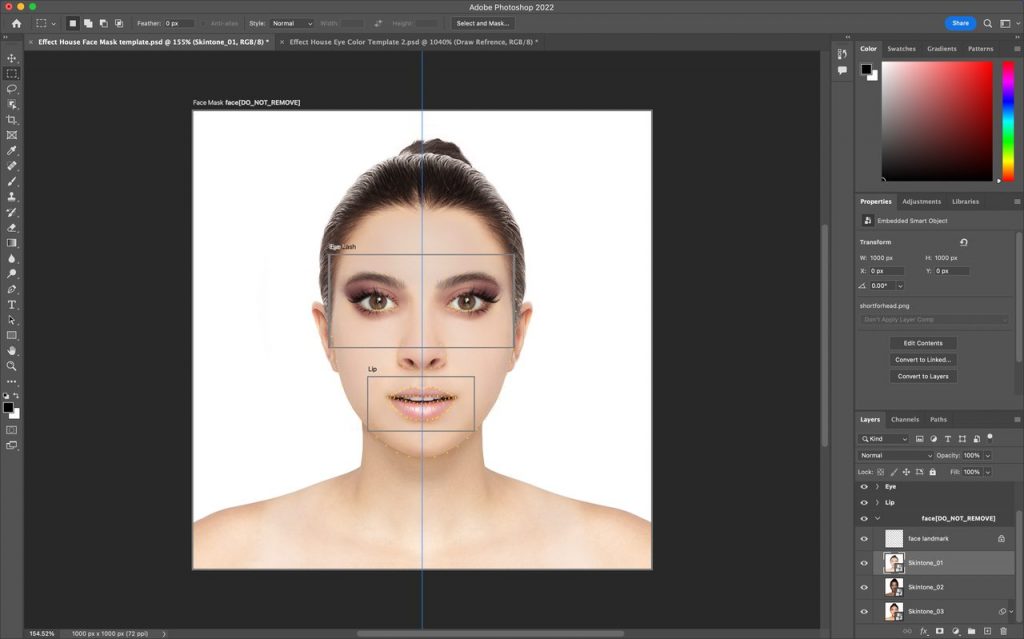 Consejo
Al crear un efecto de máscara facial, asegúrate de leer estas directrices.
En Photoshop elecciona la mesa de trabajo que quieras exportar y ve a File > Export > Artboard to Files. Cambia los ajustes de exportación a Artboard Content Only, activa la casilla Export Selected Artboards, desactiva la casilla Include Background in Export y, a continuación, cambia File Type a PNG-24. Haz clic en Run para confirmar y exportar.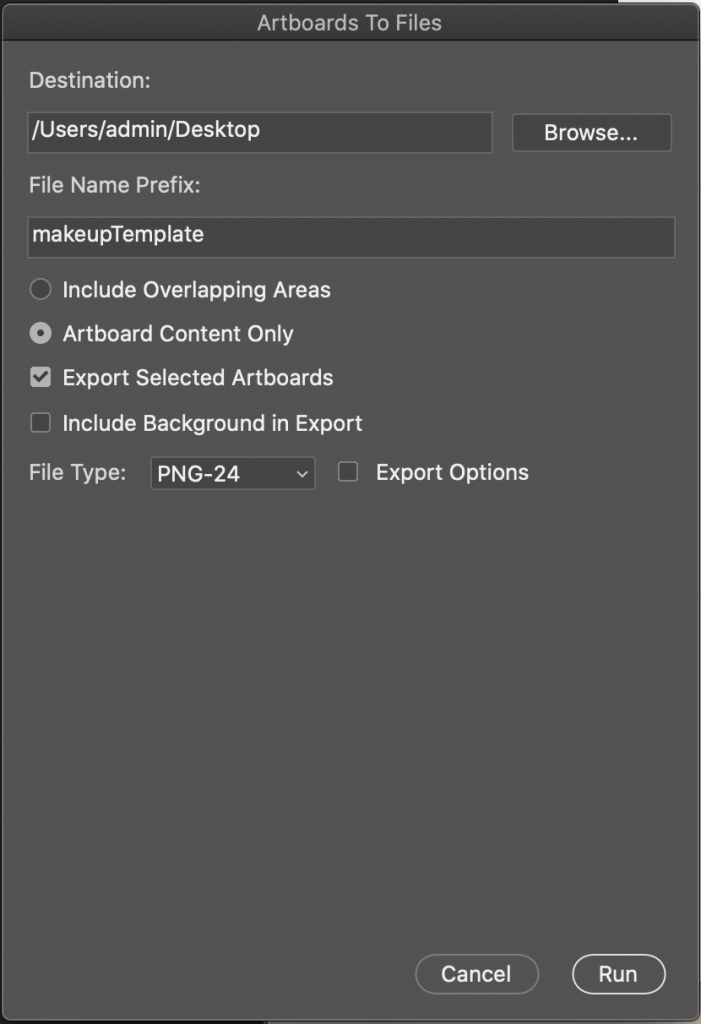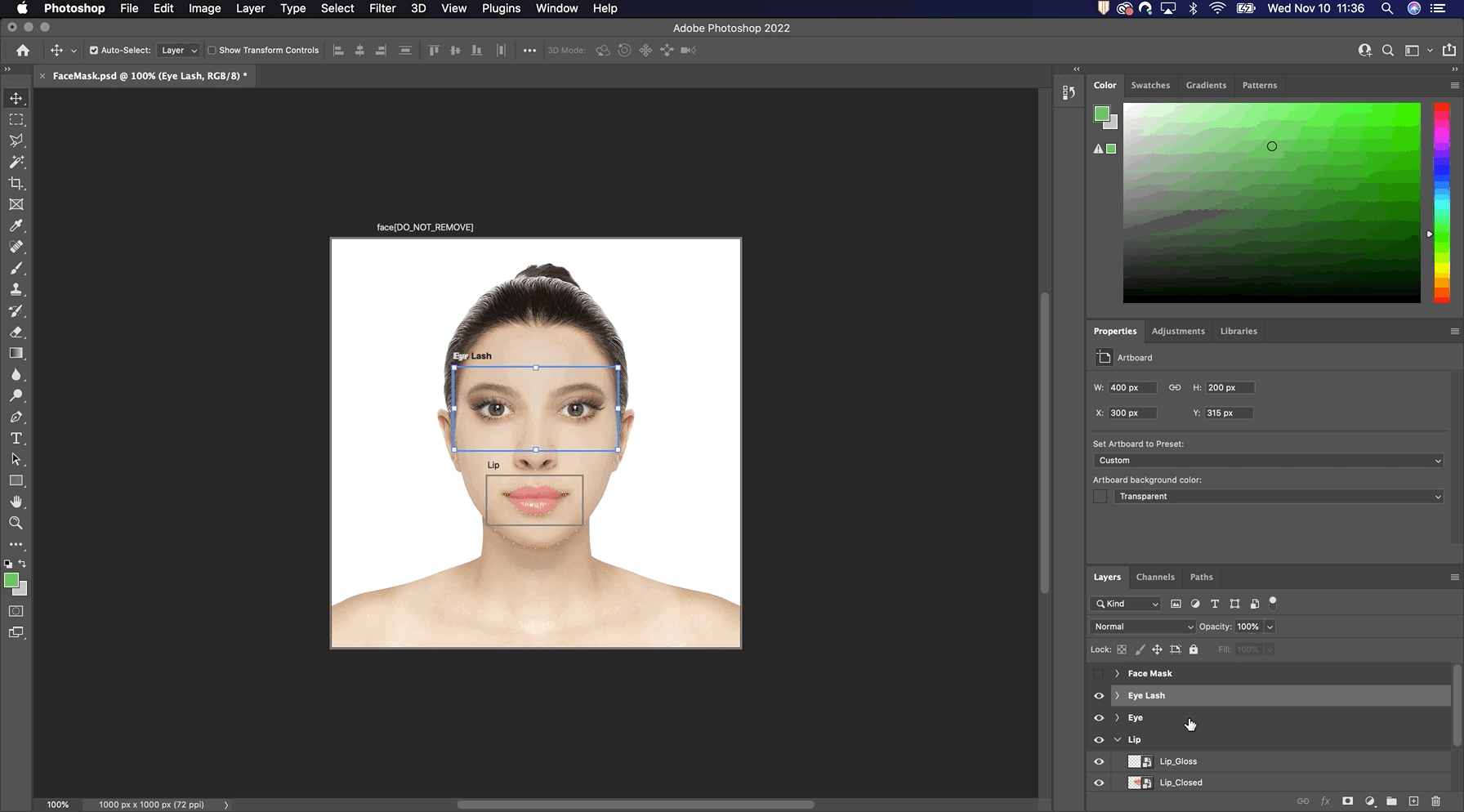 Para crear fácilmente texturas de maquillaje personalizadas que cumplan con los requisitos de archivo, puedes descargar las plantillas y modificarlas.
Importar texturas
Para importar una imagen, haz clic en + Add Asset > Import > From Computer. También puedes simplemente arrastrar la imagen hasta el panel Assets.

Nota
Requisitos
Formato: Effect House acepta archivosPNG y JPG
Resolución: 1024 x 1024 píxeles
Tamaño de archivo: Menos de 1 MB
Tamaño total del efecto: Menos 5 MB
Configurar Face Mask
Cambiar el tipo de Face Mask
Face Region: Esta propiedad designará el lugar donde se mostrará la malla sobre el rostro: Whole (Todo el rostro), Eyes (ojos), Eyelashes (pestañas), and Lips (labios).

Aplicar textura
Texture: Dale click a Face Mask Texture para seleccionar una textura del panel Assets.


Consejo
Ten cuidado con el tamaño de la imagen que importes para la Face Mask. Si cambias el tipo de Face region (región facial) a Eye (ojos),Lips (labios) o Eyelashes (pestañas), asegúrate de que el tamaño de la imagen se corresponda con la plantilla proporcionada.
Cambiar opacidad
Opacity Enable: Activa esta propiedad para personalizar la textura de opacidad y el color de la malla. Esta opción está activada de forma predeterminada.

Opacity Texture: Haz clic en esta propiedad para elegir una textura desde el selector de recursos (Assets).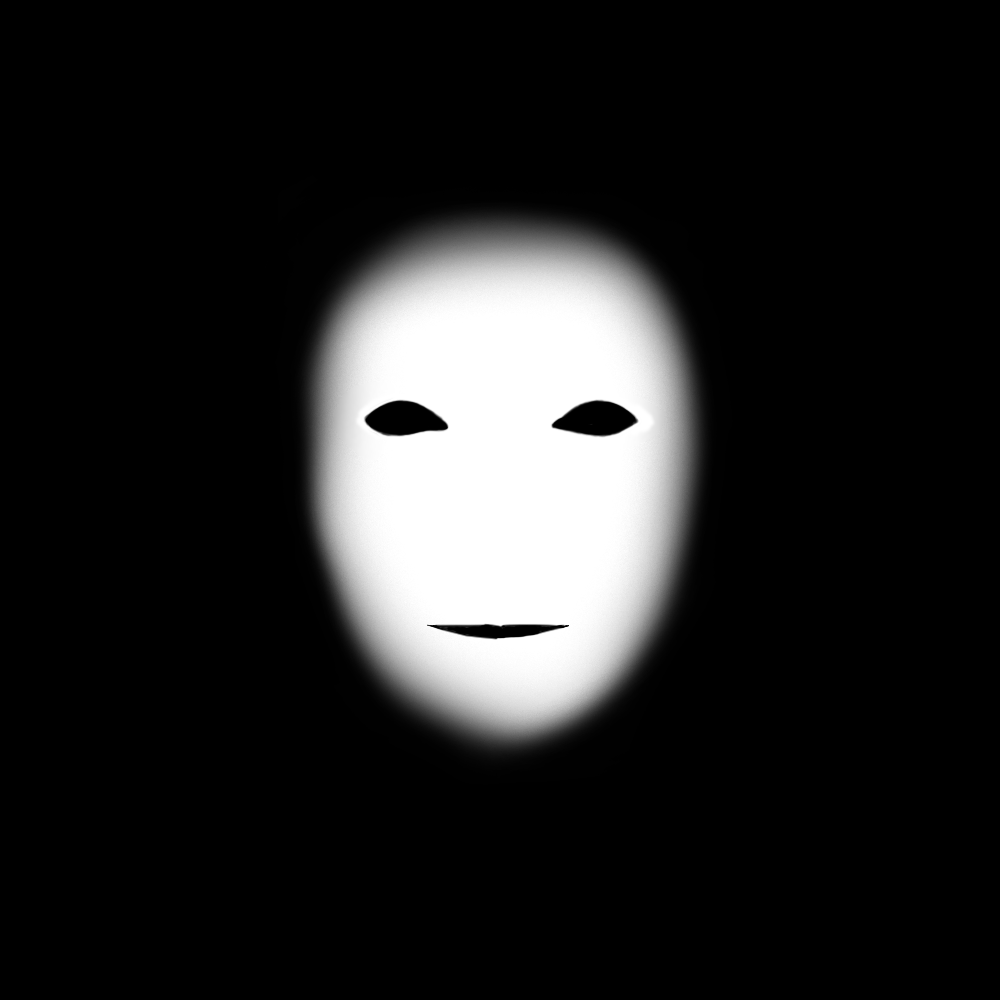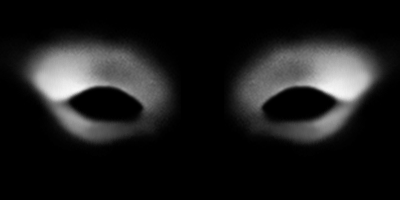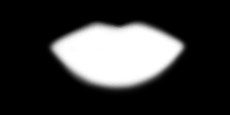 Color: Usa esta propiedad para determinar el color que se combinará con la textura.
Opacity: Este control deslizante se usa para establecer la transparencia de la textura.

Predeterminado: 0.5
Intervalo: 0-1, 0 es invisible
Blend Mode
Blend Mode: Esta propiedad determina el modo de fusión. Elige entre los distintos modos del menú desplegable para determinar los cálculos usados al combinar colores y texturas.
Normal
Multiply
Overlay
Add
Screen
Soft Light
Average
Color Burn
Color Dodge
Darken
Difference
Exclusion
Lighten
Linear Dodge
Ajustar la posición de la textura

Offset: Ajusta la posición de la malla.
X:

Predeterminado: 1
Intervalo: 0-2 (derecha a izquierda)

Y:

Predeterminado: 1
Intervalo: 0-2 (de arriba abajo)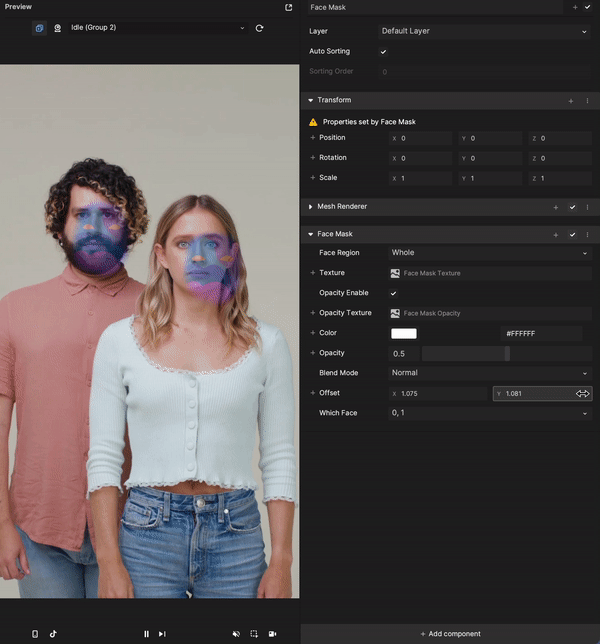 Selecciona el rostro al que aplicar la Face Mask
Which Face: Selecciona el rostro donde se aplicará el efecto. Selección múltiple.
Predeterminado: 0, 1, 2, 3, 4
Opciones:

0 – 4
Rostro 0 representa el primer rostro que aparece en la escena; Rostro 4 representa el quinto rostro que aparece en la escena.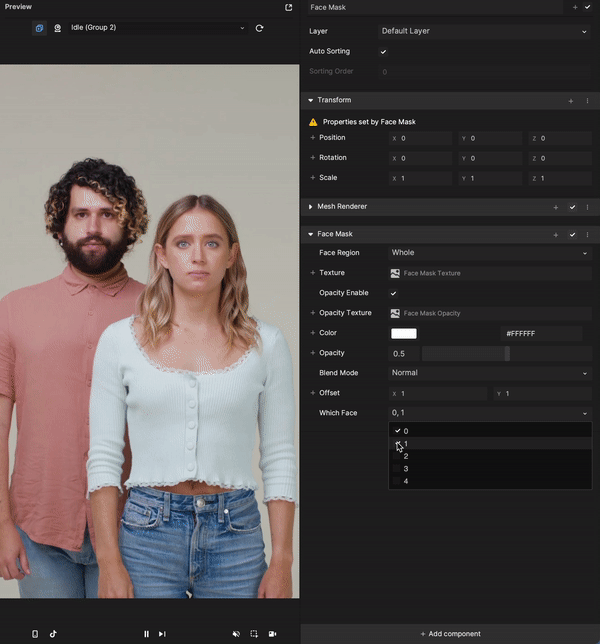 Probar tonos de piel en el panel Vista previa (Preview)
Se recomienda probar la Face Mask con distintos tonos de piel para obtener el mejor resultado. Encontrarás distintas demostraciones de medios en la lista desplegable del panel Preview.

Usar varias Face Masks
Puedes aplicar Face Masks a varias personas.

Configura Which Face para asignar la Face Mask. Puedes asignar una textura distinta a cada persona.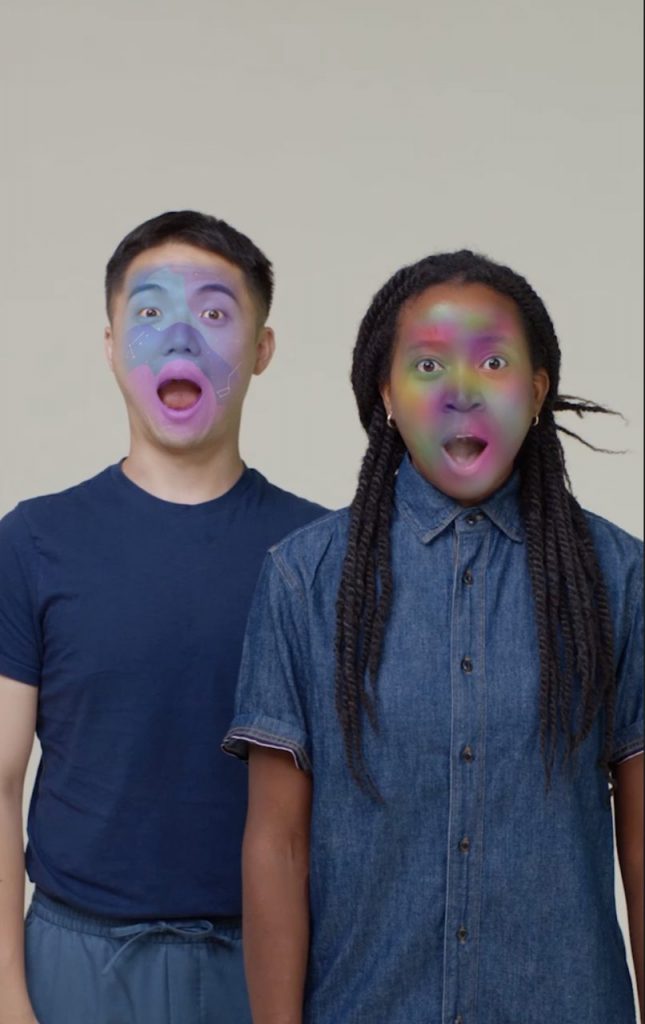 Si usas varias Face Masks en el rostro de una misma persona, se usará el orden de procesamiento de la imagen.

Nota
Consulta la guía Imagen para obtener más información sobre el orden de procesamiento.
Cuando Face Mask está encima de Face Mask(1), Face Mask también se mostrará sobre de Face Mask(1) en el rostro de la persona.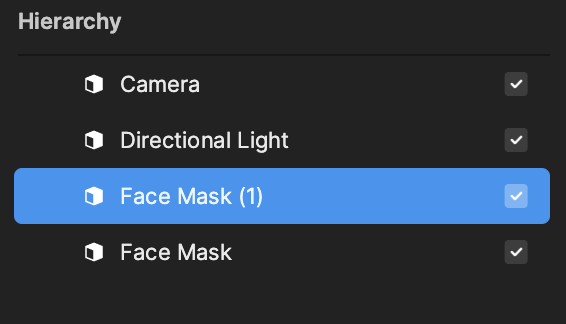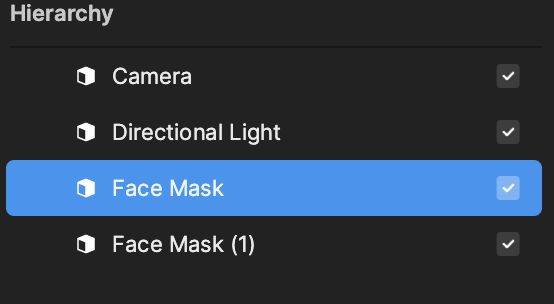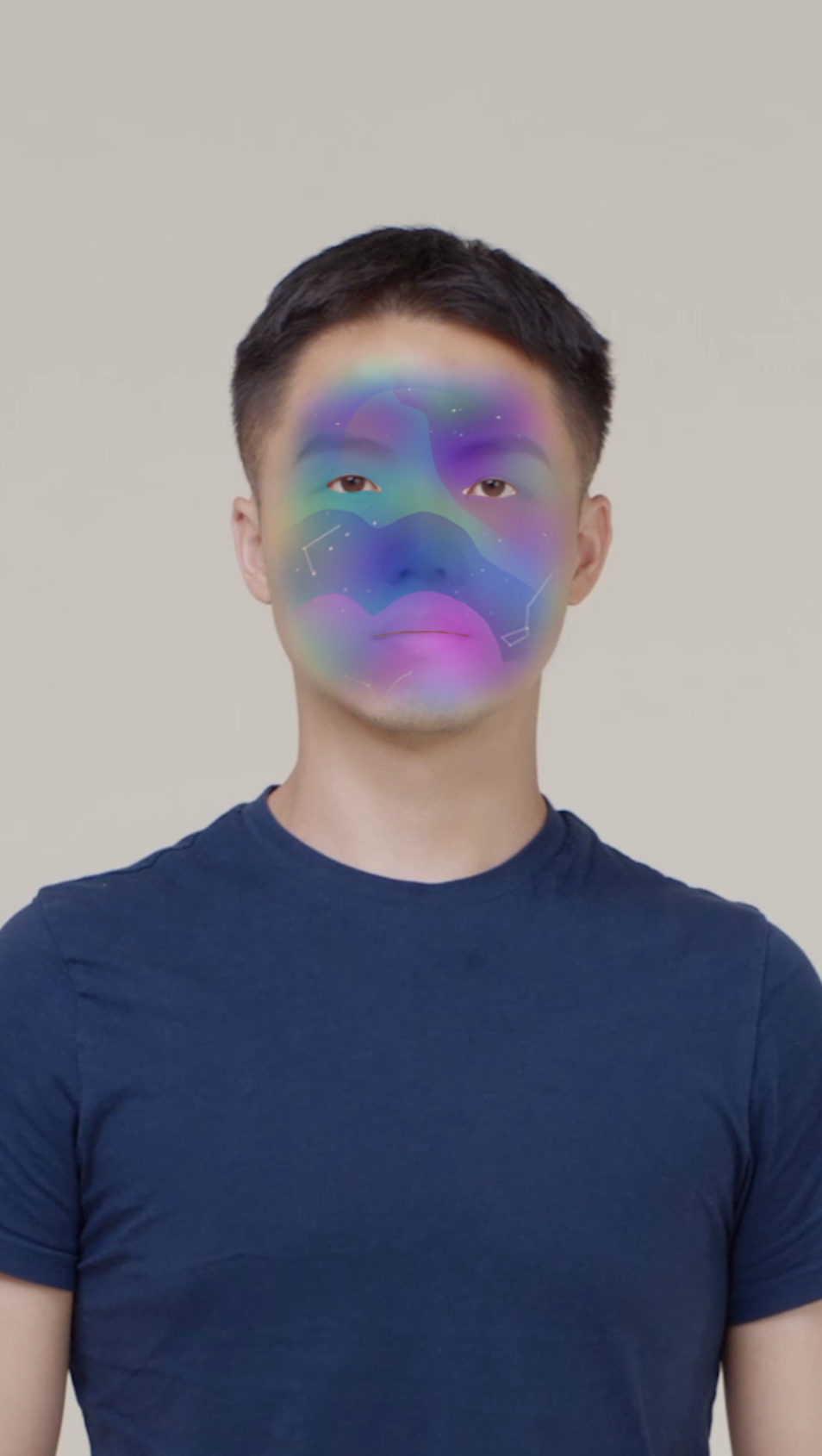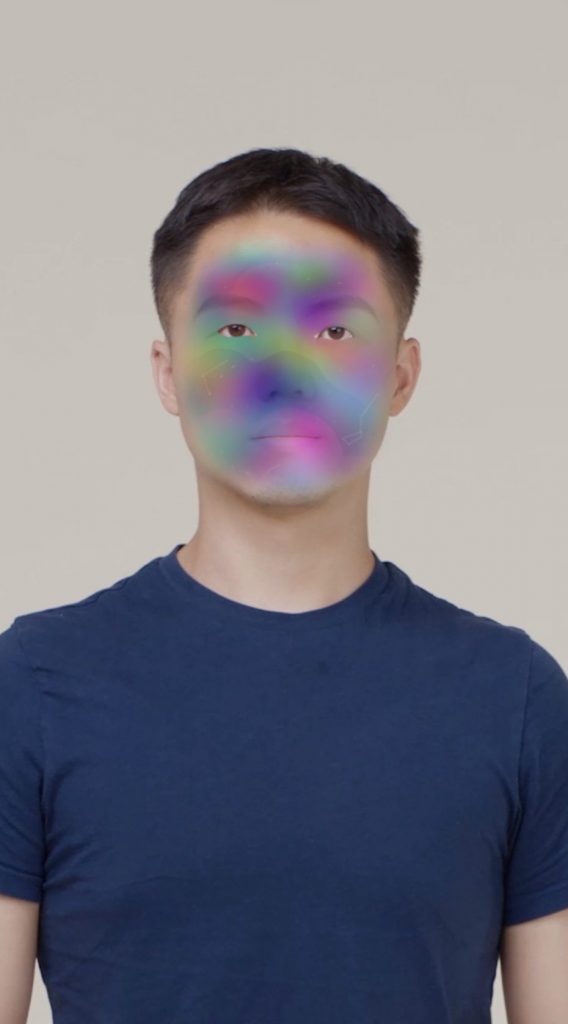 Compatibilidad de versiones
Los proyectos antiguos que se abran con la versión 1.5.1 de Effect House y con versiones futuras de la herramienta no podrán usar la propiedad Which Face multiple selection. Los usuarios tendrán que añadir un nuevo componente de Face Mask para usar esta función.