Effect Creation 101
Effect House enables you to create and share your creativity through augmented reality (AR) effects. Don't know where to start? Follow along as we break down the effect creation process!
What Are TikTok Effects?
TikTok effects aim to enhance the TikTok experience by expanding what's possible with AR effects. Whether you want to change your background or wear matching hats with your pet, TikTok effects take it to the next level by providing a dynamic landscape to create captivating videos.
Why Create on Effect House?
Effect House equips you with everything you need to create your perfect effect. The possibilities are endless with Segmentation, Face Mask, Audio Player and much more.

On Effect House, you can access guides, tutorials, templates, and other community resources to help you create exactly what you want. Once your effect is approved and available to the TikTok community, you will be tied to your effect as the creator, allowing you to build an audience and following on TikTok.
Effect Creation Workflow
Creating an effect is fun! To help get you started, we've provided a general workflow, but we encourage you to customize it to best accommodate your process!

Step 1: Ideate
Have an idea? Turn it into an effect! Inspiration can come from everyday activities, such as:
Watching TikTok videos
Consuming pop culture media or the latest current events
Viewing the latest movies
Seasons and holidays
Think of ways to visually represent your ideas by studying trends and viewing popular past effects.
For more inspiration and to connect with fellow effect creators, you can also join the Effect House Discord community.
Step 2: Get Familiar With the Effect House Interface
When you first open Effect House, there are some built-in templates to help you create effects without having to start from scratch.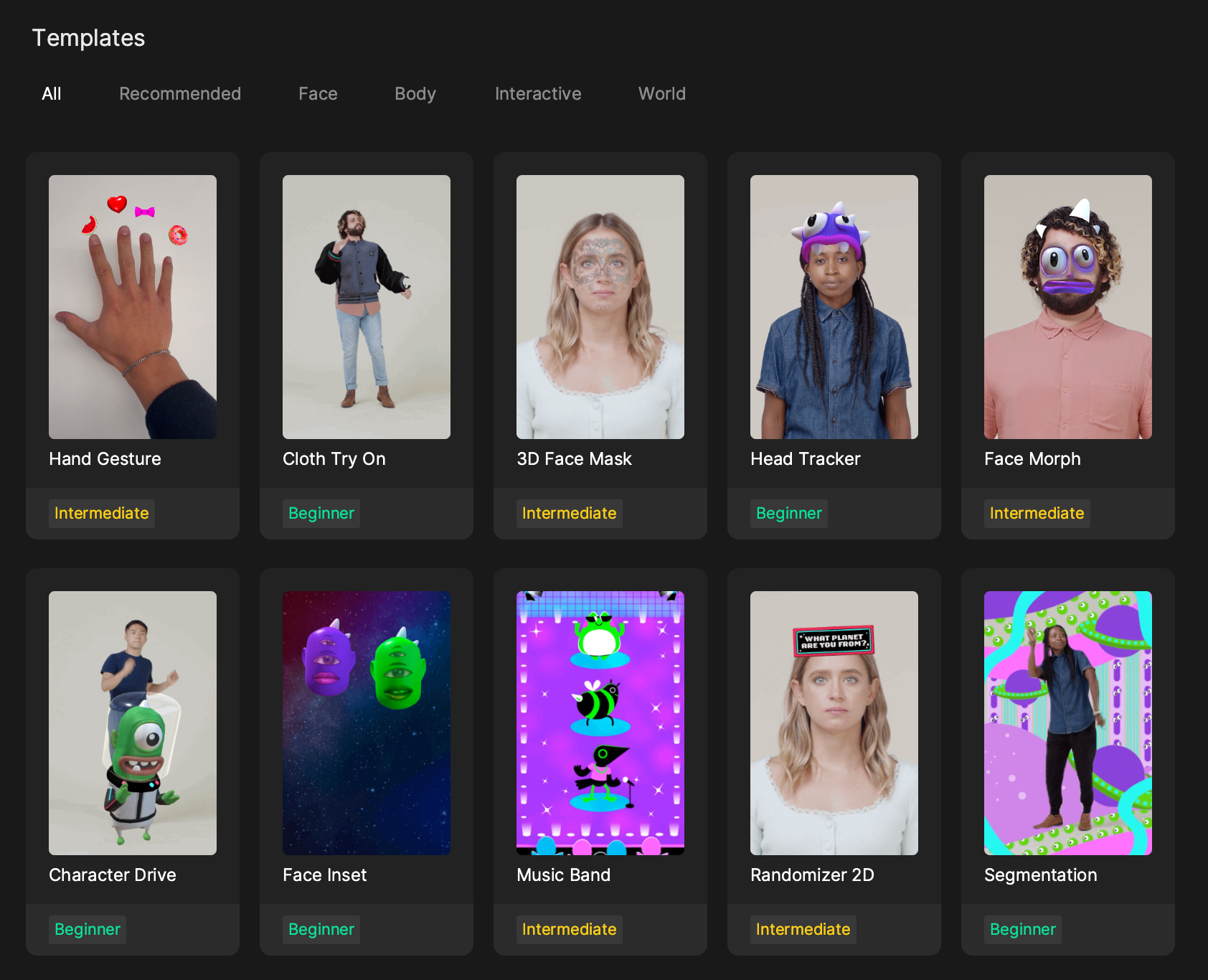 When you open a template or create a new project, you can see the Effect House interface.
On the top left is the Hierarchy panel. The Hierarchy panel shows the objects you added and their children. You can also add built-in functional objects by clicking the Add button [+].
Below the Hierarchy panel is the Assets panel. The Assets panel is the library for all your imported assets. You can simply drag assets into the panel or click the Add button [+] and select Import to add specific assets like Texture Sequence and 3D Face Binding Mesh.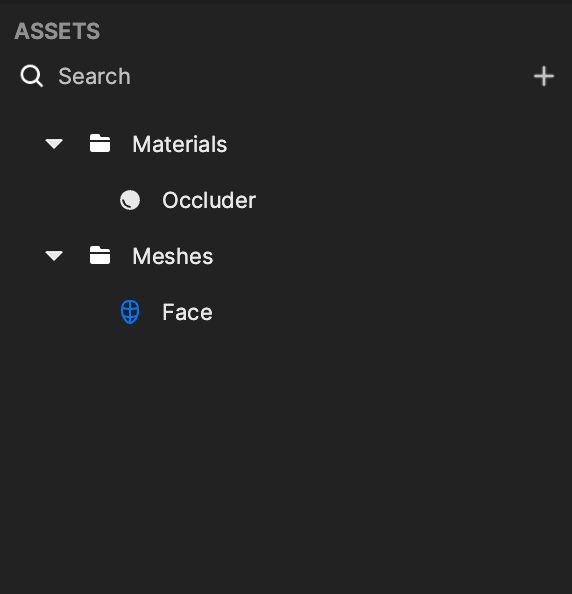 In the center is the Scene panel, or the 3D workspace reflecting your effect. You can zoom, pan, and rotate the 3D view of your project. You can also select the object and use the gizmo to manipulate the Transform properties of the object. The view can be switched between 3D and 2D scenes if you add 2D objects.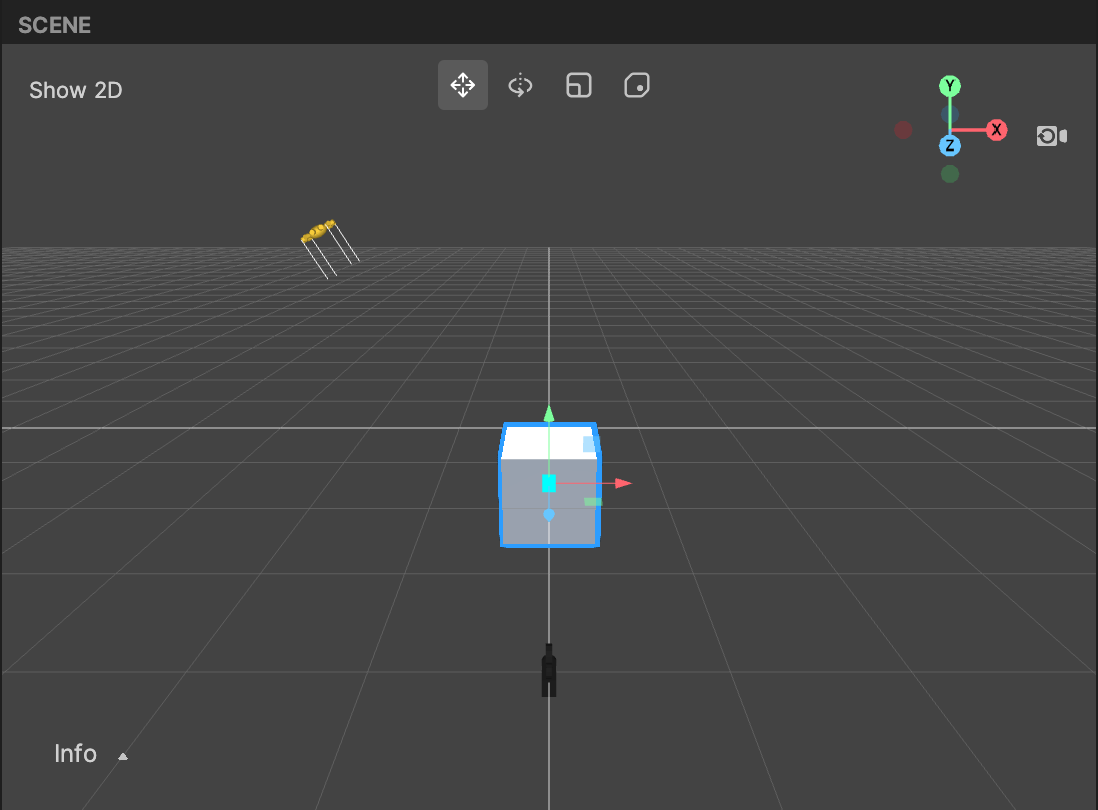 On the far right is the Inspector panel, where each object in the Hierarchy panel is broken down into multiple components. Each component can be changed by modifying its properties.
Step 3: Prepare Your Assets
Bring your ideas to life by creating an effect with your own 2D, 3D, and audio assets. Start by breaking down your experience or inspiration. Check out the following guides to prepare your assets:
You can also gather the required assets from the Effect House Asset library or even a demo project from our technical guides.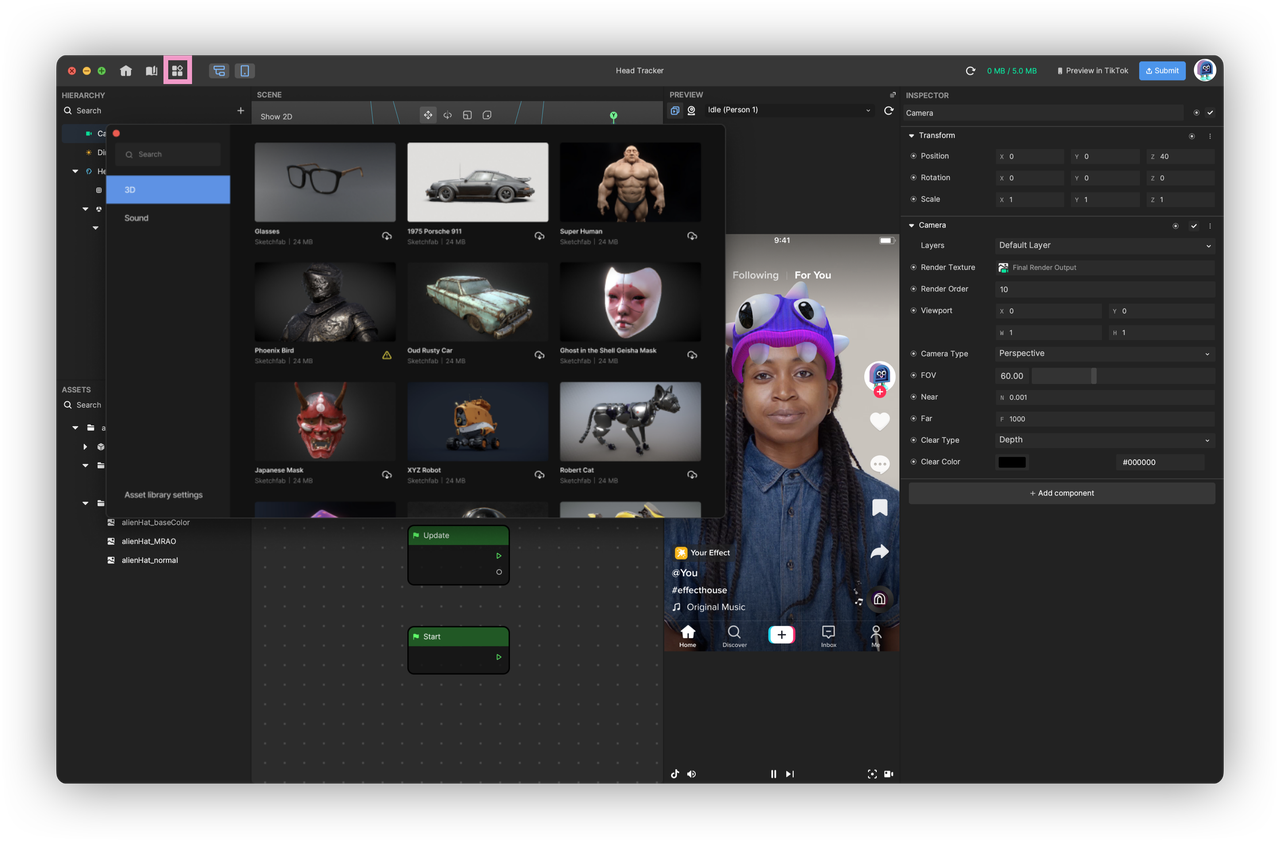 Step 4: Add Objects
In the Hierachy panel, click the Add button [+] to find built-in functionalities you can seamlessly apply to your effect.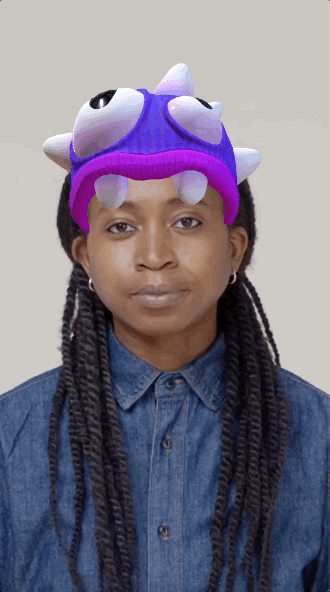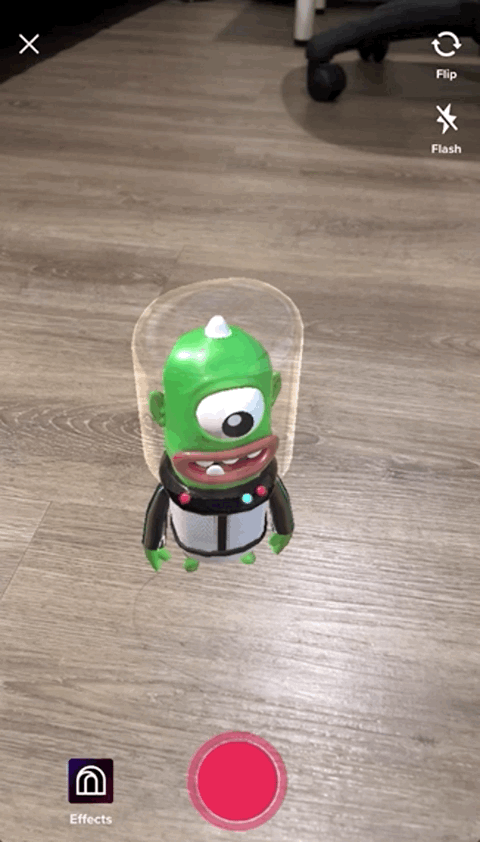 Face Effects
Effect House supports multiple face effects to cater to your various design goals.
With 3D Face, you can create a face morph effect or a dynamic 3D face mask that follows face motions.
Face Stretch allows you to easily customize the face shape by manipulating key points.
Face Inset will cut out parts of the face. You can tweak the transform and apply color to it.
Face Sticker makes it easier to attach a 2D image to a specific face anchor, while Face Liquify helps to magnify the face in humorous ways.
AR Tracking
Segmentation
Segmentation helps isolate a selected element to apply customized textures and effects to it. With Segmentation, you can implement an animated background and foreground.
Step 5: Preview and Test
Preview your effect in Effect House, or directly in TikTok by clicking Preview in TikTok in the upper-right corner. We recommend that you test your effect on a variety of faces, bodies, and environments.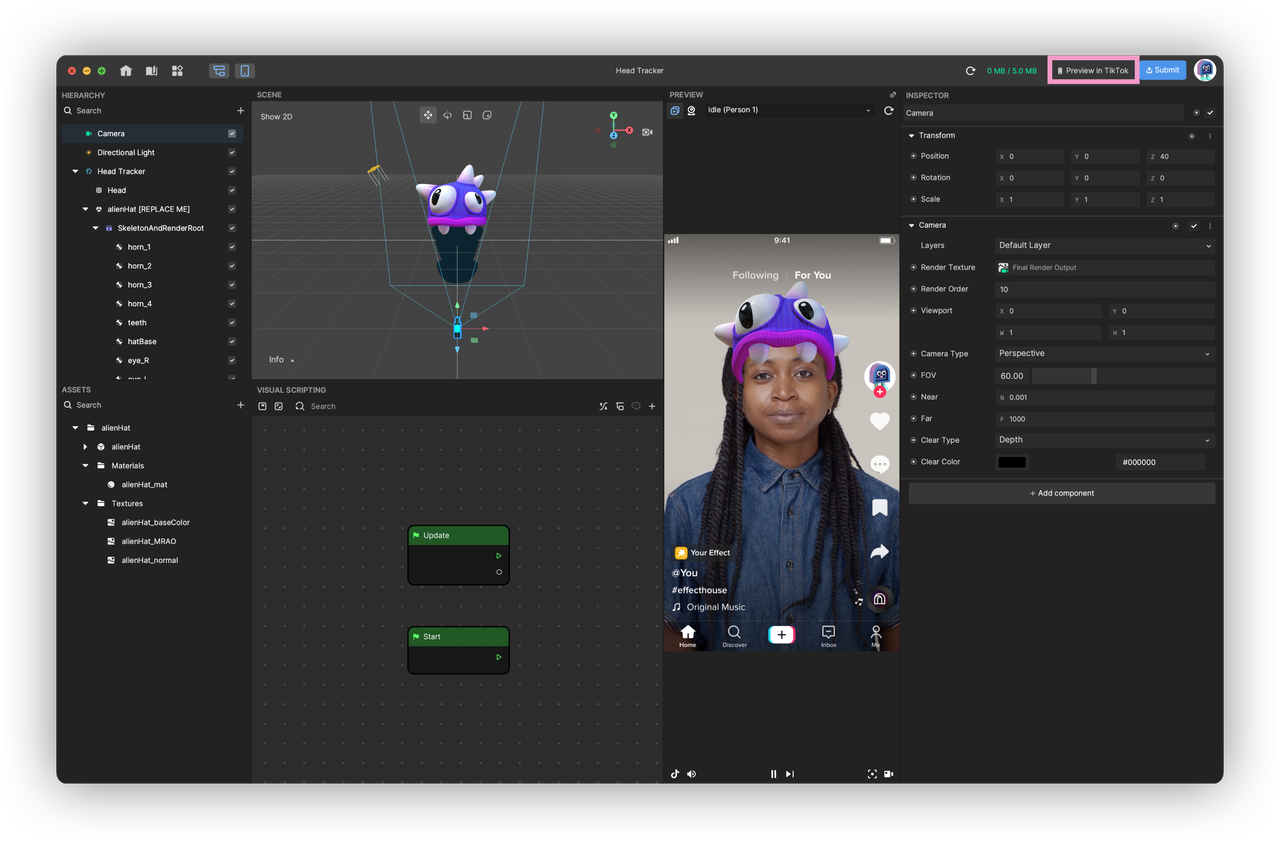 A QR code will be generated, which can be scanned with your TikTok app. Using the TikTok mobile app, go to your Profile, tap the Menu button, then select My QR code. The scanner is in the upper-right corner.
Learn more about previewing in Effect House and TikTok.
Step 6: Review Our Guidelines
Effect House is focused on fostering a safe, authentic, and inclusive environment for our global community to create and engage with effects. In addition to our Community Guidelines, effects must follow our Effect Guidelines, which outline additional policies aimed at helping everyone on TikTok feel welcome and empowered to create exactly as they are. You are also encouraged to take into consideration best practices for technical optimization.
Step 7: Submit Your Effect
Once you're happy with your effect, click Submit in the upper-right corner.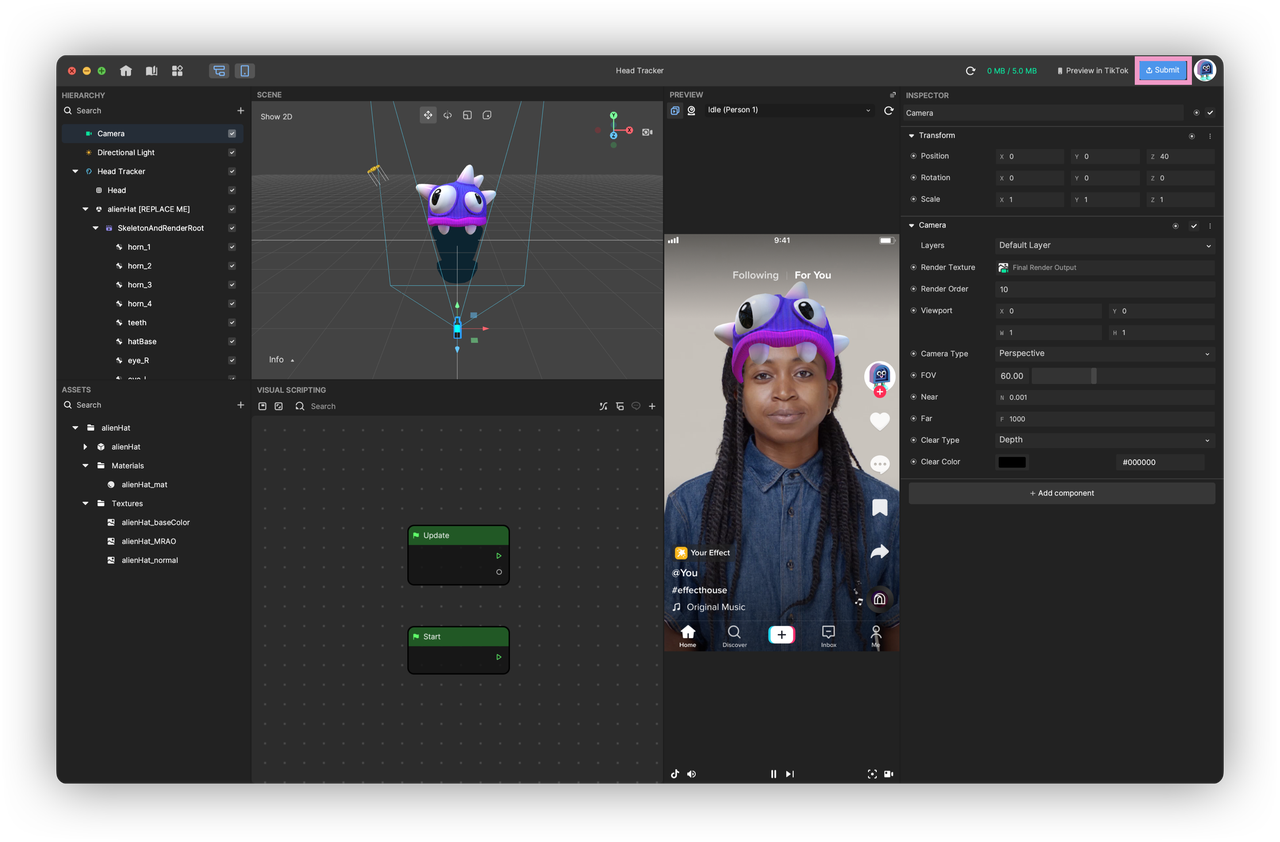 Create a Thumbnail
Thumbnails act as a preview of your effect and should visually represent your effect to the public. It is important to include a relevant thumbnail as they are what the public first sees before accessing your effect. Create and upload a thumbnail for your effect.
Add a Hint
Hints are text displayed on the screen to help video creators use your effect. Select an effect hint from the long list of available hints. Although this is an optional step, having a hint can help people understand how to use the effect.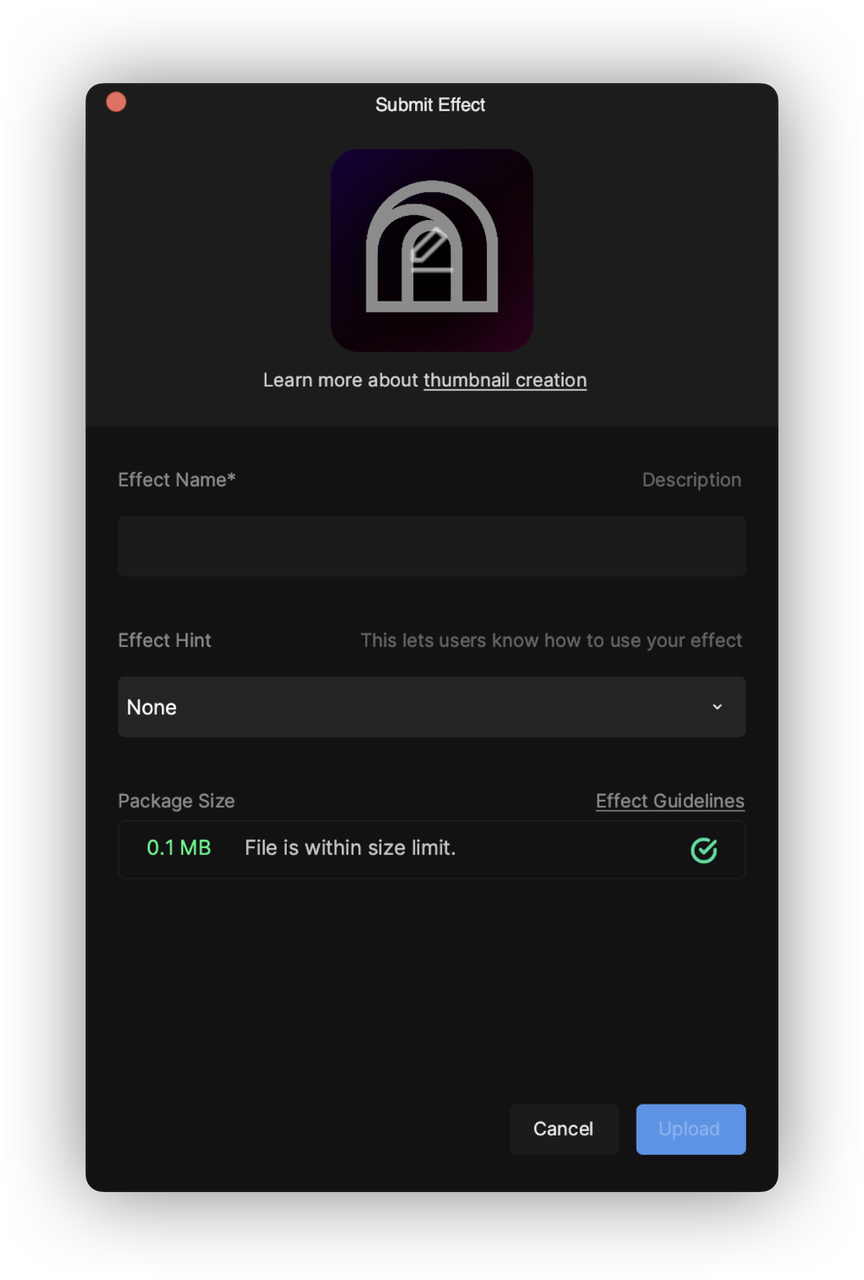 After you submit an effect, it will go through a review process, which could take 1 to 3 business days. Track the status of your effect by visiting the effect management portal by clicking Manage effects in the lower-left corner of Effect House or clicking Manage on the website.
More Effect Creation Tips
Check out some of the following best practice guides to ensure your effects are approved and successful among the TikTok community: