Trick and Treat Challenge
OH! EEK! AHH!!!
Sorry if we seem a bit spooked — our team has just spent the past week reviewing thousands of spooky, scary effects submitted for the Trick and Treat Challenge.
We were charmed by the incredible creativity, originality, and quality of these Halloween effects. From ghoulish games to creepy characters, these effects are scary good.
Congrats to the winners of this year's Trick and Treat Challenge!
First Place: Exorcist by @thomasasril
Second Place: Halloween Dance Party by @creatorbrew
Third Place: bat child newspaper by @juliorlixo
---
The TRICK
Unleash your creativity and wow TikTok creators with your best Halloween-themed AR effects! Enter this challenge, if you dare, by October 31 for a chance to win up to $5,000!
Think outside the box and create a never-before-seen Halloween effect using Effect House features. Some theme ideas:
Unique or funny Halloween costumes
Scare-season traditions or pop culture moments
Halloween-themed game or sport
Ghost-hunting with pets
Or better yet, surprise us!
---
Eligible regions
This challenge is open to creators in all regions, with the exception of the following:
American Samoa, Anguilla, Dominica, Fiji, Guam, Palau, Panama, Samoa, Trinidad and Tobago, US Virgin Islands, Vanuatu, Seychelles, Russia, Crimea, Donetsk, and Luhansk regions of Ukraine, Cuba, North Korea, Iran, and Syria.
---
The TREAT
If you succeed, you'll be one of the 43 winners to receive:
1st place (1 winner): $5000
2nd place (1 winner): $3000
3rd place (1 winner): $2000
Runners up (10 winners): $1000
Honorable mentions (30 winners): $500
---
How to enter
Download and create your effect using Effect House.
On the Submit form, select "Trick and Treat Challenge" under Challenge.
Add or update the email associated with your account to be eligible to win prizes and get notified about challenge updates, results, and more. Learn how to add an email.
Click Submit and you're all set!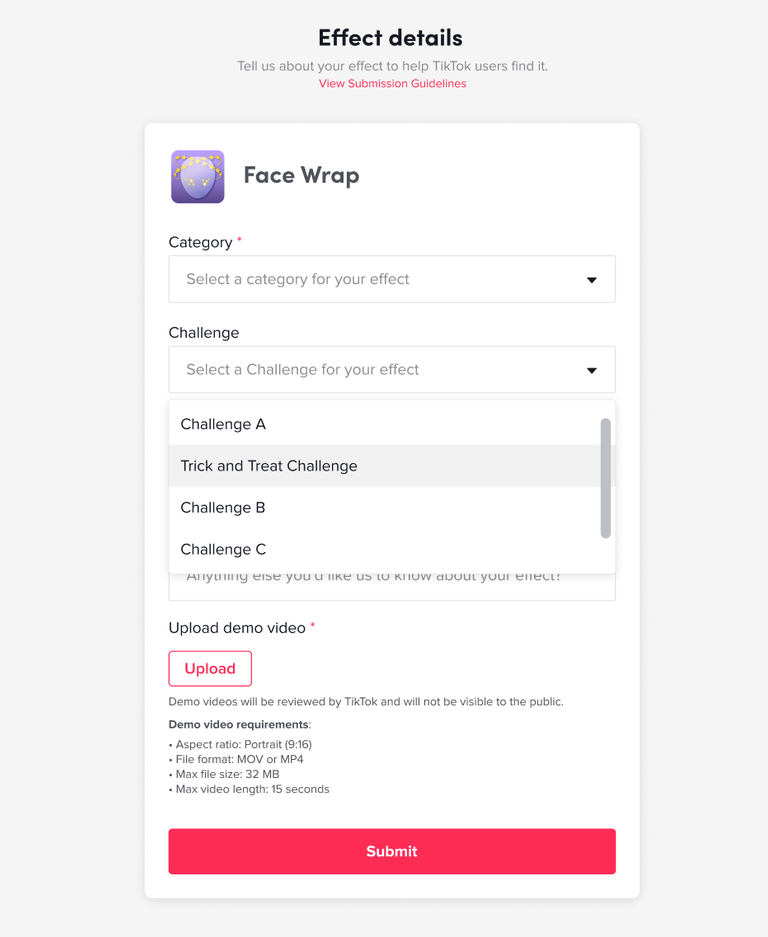 Challenge timeline
Submission start date: Oct 11th, 2022 @ 00:01am PT
Submission end date: Oct 31st, 2022 @ 11:59pm PT
Winner(s) announcement: Nov 10th, 2022
---
What we're looking for
---
Frequently asked questions
---
How do I know if I won the challenge?
---
Can I submit effects I've already published?
---
Can I submit more than one effect?
---
This challenge is organized by Lenslist. Visit here for full terms and conditions. No purchase necessary, void where prohibited. The Challenge Period is between 12:01AM PST October 11th, 2022 and 11:59PM PST October 31st, 2022. Open to legal residents of a region set out in the terms and who are at least 18 years of age, or the age of majority, at the time of entry. Enter by submitting an effect as described in the terms between 12:01AM PST October 11th, 2022 and 11:59PM PST October 31st, 2022. 43 winners will be selected by a panel of judges based on specific criteria set out in the terms. Username and profile picture of winner[s] will be displayed. Reward: (1) 1 × USD$5000, (2) 1 × USD$3000, (3) 1 × $2000, (4)10 × $1000, (5)30 × $500. Limit of one prize per person. Odds of winning depend on the number of eligible entries received.