Niantic Peridot x TikTok Effect House Challenge
Creators, the Peridot Challenge has come to an end. We were impressed and inspired with the effects you created for this challenge. We're excited to share the winners:
Grand Prize: Peridot Rider by @mattespray
Challenge Winners
AR Gem Game by @lordskamp_
Peridot Memory Game by @gameplus40
Feed your Peridot by @natali.zmi
Honorable Mentions
TikTok Favorite
Peridot Hyperspace by @metachris.tok
---
Congratulations to all winners! We will be in contact with you over the next few weeks to process your prize winnings. Stay tuned for our next challenge! 
---
About this challenge
Effect House is teaming up with Niantic to launch a new challenge for Peridot, the new game of adorable magical AR pets. Download 2D and 3D assets from the game and create a Peridot themed effect for the chance to win up to $10,000!
---
New Peridot assets available
Niantic has provided 2D and 3D assets from the game for you to use! You can use the new Peridot assets in the Asset Library to create your effects, although this is not required.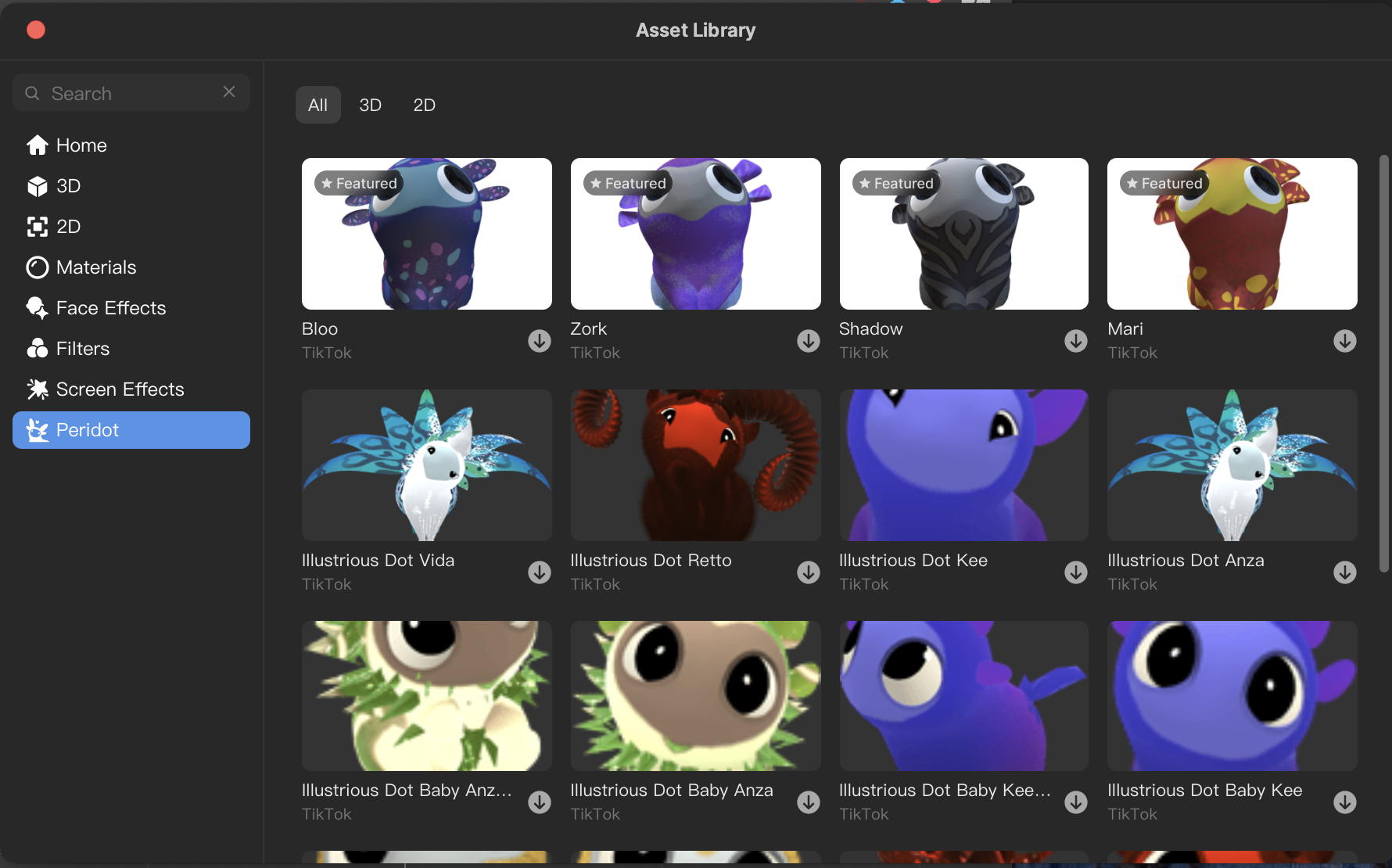 You can also access the Period assets by downloading the following file:
↓ peridot_challenge_assets.zip
---
What we're looking for
Create an effect that brings the world of Peridot to life.
---
Eligible regions
Creators can enter this challenge as long as they do not reside in any of the following countries:
Afghanistan, American Samoa, Anguilla, the Balkans, Bangladesh, Belarus, Brazil, Burma, China, Cameroon, Cote D'ivoire (Ivory Coast), Crimea, Cuba, Democratic Republic of Congo, Dominica, Donetsk, Equatorial Guinea, Fiji, Gabon, Ghana, Guam, Haiti, Iran, Iraq, Italy, Lebanon, Liberia, Libya, Luhansk regions of Ukraine, Moldova, Monaco, Montenegro, Myanmar, North Korea, Palau, Panama, Paraguay, Pakistan, Russia, Saint Lucia, Samoa, Seychelles, South Sudan, Sudan, Syria, the Central African Republic, Timor-Leste, Trinidad and Tobago, Turkey, US Virgin Islands, Uzbekistan, Vanuatu, or Zimbabwe.
---
Prizes
Grand Prize (1): $10,000 USD
Challenge Winners (3): $3,000 USD
Honorable Mentions (20): $500 USD gift card
TikTok Favorite (most used effect in videos): $1,000 USD
*In regions where cash prizes cannot be distributed, the prizes will be given in the form of gift cards.
---
How to enter
Download and create your effect using Effect House.
On the Submit form, select Niantic Peridot Challenge under Challenge.
Click Submit and you're all set!
If you create a video with your effect, make sure to use #peridot and #playperidot.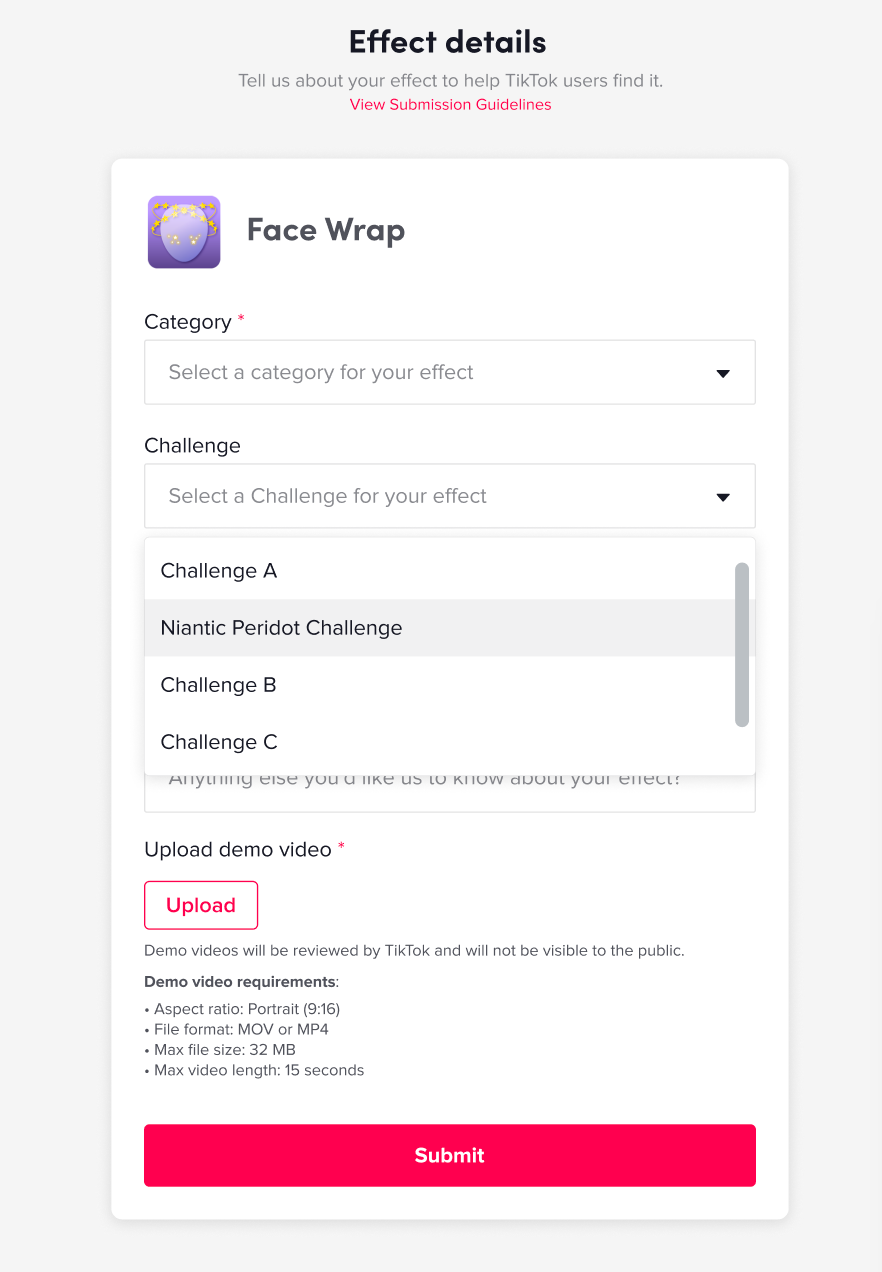 Challenge timeline
Submission start date: May 31, 2023 at 09:00 AM PST
Submission end date: June 21, 2023 at 11:59 PM PST
Winners announcement: July 14, 2023
---
Frequently asked questions
---
How do I know if I won the challenge?
---
Can I submit effects I've already published?
---
Can I submit more than one effect?
---
This challenge is organized by Niantic, Inc. Visit here for full terms and conditions. No purchase necessary, void where prohibited. The Challenge Period is between [00:01 AM, May 31st,2023] in [Pacific Time (UTC-8)] and[11:59 PM, June 21st,2023] in [Pacific Time (UTC-8)]. Open to legal residents of a region set out in the terms and who are at least 18 years of age, or age of majority in applicable jurisdiction, at the time of entry. Enter by submitting an effect as described in the terms between [00:01 AM, May 31st,2023] in [Pacific Time (UTC-8)] and[11:59 PM, June 21st,2023] in [Pacific Time (UTC-8)]. [Twenty-five (25)] winners will be selected by a panel of judges based on specific criteria set out in the terms. Selection of winners will occur between [10:00 AM, June 22nd,2023] in [Pacific Time (UTC-8)] and[11:59 PM, July 12th,2023] in [Pacific Time (UTC-8)].TikTok handle of winner[s] will be displayed on or around [July 14th, 2023] in [Pacific Time (UTC-8)] on the Challenge page("Winner Announcement"). Reward: This event features a [30,000]USD prize pool. Limit of [One(1)] prize per person.