Behind The Scenes Challenge | Festival de Cannes x Effect House
Creators, the Behind The Scenes Challenge has come to an end. Thank you for submitting so many inspiring and creative effects! We're excited to share the winners of this challenge.
Makeup Category
1st Prize: 100 years of Movie Makeup by @pancake_monkey
Honorable Mention: Iconic Movie Makeup Looks by @paula.casado_
Honorable Mention: Spatial by Flor Rafa by @florenciaraffa.ok
VFX Category
1st Prize: Portal by Jan by @janmahavan
Honorable Mention: MultiColor Vision by @fxk
Honorable Mention: everything everywhere by @eberglitch
Direction Category
1st Prize: Wes Anderson Cam by Julia by @filtersbyjulia
Honorable Mention: Drama Acting by @anjoooy97
Honorable Mention: Act It Out by @wandetri
Staging Category
1st Prize: Psychose by @malel.v
Honorable Mention: My Behind the Camera by @libardomartinez99
Honorable Mention: Into The Hell Hole TH by @digital_boyz
Audio Category
1st Prize: Launchpad Mini by @immaammm
Honorable Mention: Pick A Scene by @damolarufai
Honorable Mention: Foley Secrets by @santerisalmivisual
And finally, the moment we've all been waiting for. Drumroll please! Out of all the amazing 1st prize champions in every category, the lucky creator selected for the trip to Cannes is @janmahavan!
---
About this challenge
Audition call to all AR designers! Join the Effect House x Festival de Cannes Challenge and showcase your talent with AR effects. Get ready to bring to life the work of makeup artists, directors, audio engineers, VFX artists, and set designers through your effects.
Participate to win up to $2,000 and the chance to win the prize of attending the prestigious Cannes International Film Festival!
---
What we're looking for
We are looking for effects that represent behind-the-scenes professions in film making:
Makeup Artist (Makeup/beauty effects)
Let's pay homage to the talented cinema makeup artists who have transformed actors into iconic characters throughout history, and create an effect that showcases their artistry and creativity.
Director (Cinematographic effects)
Let's channel the creativity of cinema directors and craft some eye-catching transition, camera movement and LUT effects.
Audio Engineer (Audio effects)
Pay tribute to the genius of cinema audio engineers who have elevated movie soundtracks to an art form, by creating audio effects.
VFX Artist (VFX effects)
Give users their ultimate superpower by creating a set of character-focused VFX effects that'll have creators believing in magic, monsters, and everything in between.
Set Designer (Segmentation effects)
Draw inspiration from the masterful stage designers who have transformed empty stages into breathtaking worlds of wonder, by creating a set of visually-stunning backgrounds effects and sets that'll transport our users to a whole new dimension.
---
Eligible regions
Individuals who are not residents of Afghanistan, American Samoa, Anguilla, Bangladesh, Brazil, Cameroon, Cote D'Ivoire (Ivory Coast), Crimea, Cuba, Dominica, Donetsk, Equatorial Guinea, Fiji, Gabon. Ghana, Guam, Haiti, Iran, Iraq, Lebanon, Liberia, Libya, Luhansk regions of Ukraine, Moldova, Monaco, Montenegro, Myanmar, North Korea, Palau, Panama, Paraguay, Russia, Saint Lucia, Samoa, Seychelles, South Sudan, Sudan, Syria, the Central African Republic, Timor-Leste, Trinidad and Tobago, US Virgin Islands, Uzbekistan, Vanuatu, and Zimbabwe are eligible to participate.
---
Prizes
If you succeed, you'll be one of the winners to receive a reward:
Makeup Category
1st Prize: $2,000 USD
Honorable mention: $500 USD
Cinematography Category
1st Prize: $2,000 USD
Honorable mention: $500 USD
Audio Category
1st Prize: $2,000 USD
Honorable mention: $500 USD
VFX Category
1st Prize: $2,000 USD
Honorable mention: $500 USD
Set Design Category
1st Prize: $2,000 USD
Honorable mention: $500 USD
Cannes Film Festival Favorite 
1st Prize: Invitation to the Cannes Film Festival Screening (May 22nd, 2023), plus a 2 night stay (May 21st – May 23rd, 2023), including flights.
The Festival Favorite prize will be awarded to one of the 5 winning effects in the categories mentioned above, based on the established criteria of creativity and originality, craftsmanship, conformity to the challenge prompt, and user experience.
---
How to enter
1. Download and create your effect using Effect House.
2. On the Submit form, select Behind The Scenes Challenge under Challenge.
3. Click Submit and you're all set!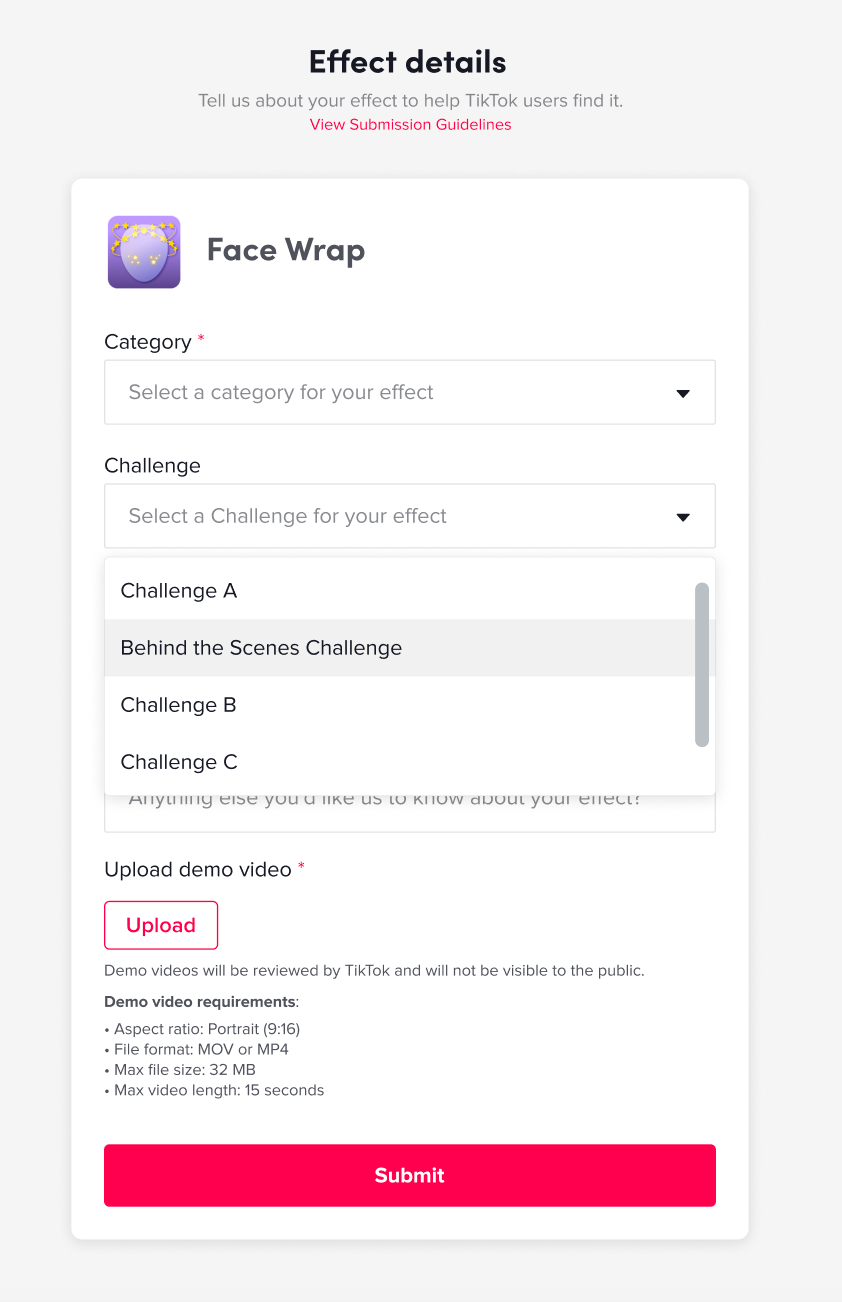 Challenge timeline
Submission start date: April 14, 2023 @ 05:00AM GMT
Submission end date:  May 5, 2023 @ 11:59PM GMT
Winner announcement: May 12, 2023
---
Frequently asked questions
---
How do I know if I won the challenge?
---
Can I get more than one prize?
---
Can I submit effects I've already published?
---
Can I submit more than one effect?
---
Visit here for applicable Program-specific provisions. No purchase necessary. The Program starts on April 14th, 2023, at 05:00 AM GMT and ends on May 5th, 2023, at 00:00 AM GMT. Open to legal residents of a region where Effect House and TikTok are available and who are at least 18 years of age. 16 winner[s] will be selected by a panel of judges based on specific criteria set out in the Program-specific provisions. Username and profile picture of winner[s] will be displayed. Reward: 1. 5 (five) 1st places: $2,000 USD each; 2. 10 (ten) honorable mentions: $500 USD each; and 3. 1 (one) invitation to Cannes International Film Festival Screening (May 22nd, 2023), including a 2 night stay (May 21st – May 23rd, 2023) in a 4* hotel or similar accommodation, including economy round-trip flights and transportation. Limit of [1] Reward per person.