Eurovision Effect Challenge
Creators, the Eurovision Song Contest Challenge has come to an end. Thank you for submiting inspiring and creative effects around Eurovision and music. We're excited to share the winners of this challenge:
First Place: Eurovision Memory Game by @projoearfilters
Second Place: Guess The Eurovision Song by @baruchgeuze
Third Place: Eurovision 2023 Bracket by @passione.eurovision
Honorable Mentions
Eurovision by @paula.casado_
Rate The Song Eurovision by @_cusmar_Euro
Voice by @irina__maski
Guess the ESC song emoji by @esc.adjuba
Eurovision Quiz by @chantelle.filters
Eurovision True or False by @kithus
Eurovision VIP by @santerisalmivisual
Guess The Eurovision Song by @stepan_khachatryan
EUROVISION 1st 2nd 3rd by @allangregorio
TOP 3 ESC by @kwspian
---
About this challenge
Attention all effect designers! It's time to unleash your creativity on the biggest stage in the music world!
We are looking for dynamic and innovative effects that capture the essence of Eurovision – music, energy, and a celebration of diversity. Participate for a chance to win a trip for 2 to Liverpool (accommodation and airfare included), 2 tickets to the Grand Final, and up to $3,000 USD!
---
What we're looking for
We want to celebrate music, diversity, and the Eurovision spirit! Here are some examples:
Eurovision-inspired effects
Top 10 artist effect bracket / showdown effects that feature past and current Eurovision contestants
Finish the lyrics challenges that test how well fans know the lyrics to their favorite Eurovision songs
Guess the song
And many more interactive and entertaining Eurovision-inspired effects!
Music-inspired effects
Think about instruments, microphone, audio, light, big stages, and performance!
For this challenge exclusively, you will be able to use the Eurovision Song Contest logos (not mandatory). Download them here.
Effect created by @janmahavan
Effect created by @kevin.koci
Effect created by @felipesalves3
Effect created by @alcaide2412
---
Eligible regions
This challenge is open to creators in the following regions:
United Kingdom, Albania, Armenia, Austria, Azerbaijan, Belgium, Bulgaria, Croatia, Republic of Cyprus, Czech Republic, Denmark, Estonia, Finland, France, Georgia, Germany, Greece, Iceland, Hungary, Ireland, Italy, Latvia, Lithuania, Luxembourg, Malta, Moldova, Netherlands, Norway, Poland, Portugal, Romania, Slovakia, Slovenia, Spain, Sweden, Switzerland, Ukraine (except Luhansk regions).
---
Prizes
If you succeed, you'll be one of the winners to receive a reward:
1st place (1): Trip for 2 to Liverpool (accommodation and airfare included), 2 tickets to the Grand Final, and $3,000 USD
2nd place (1): $2,000 USD
3rd place (1): $1,000 USD
Runner up (10): $500 USD
---
How to enter
1. Download and create your effect using Effect House.
2. On the Submit form, select Eurovision Effect Challenge under Challenge.
3. Click Submit and you're all set!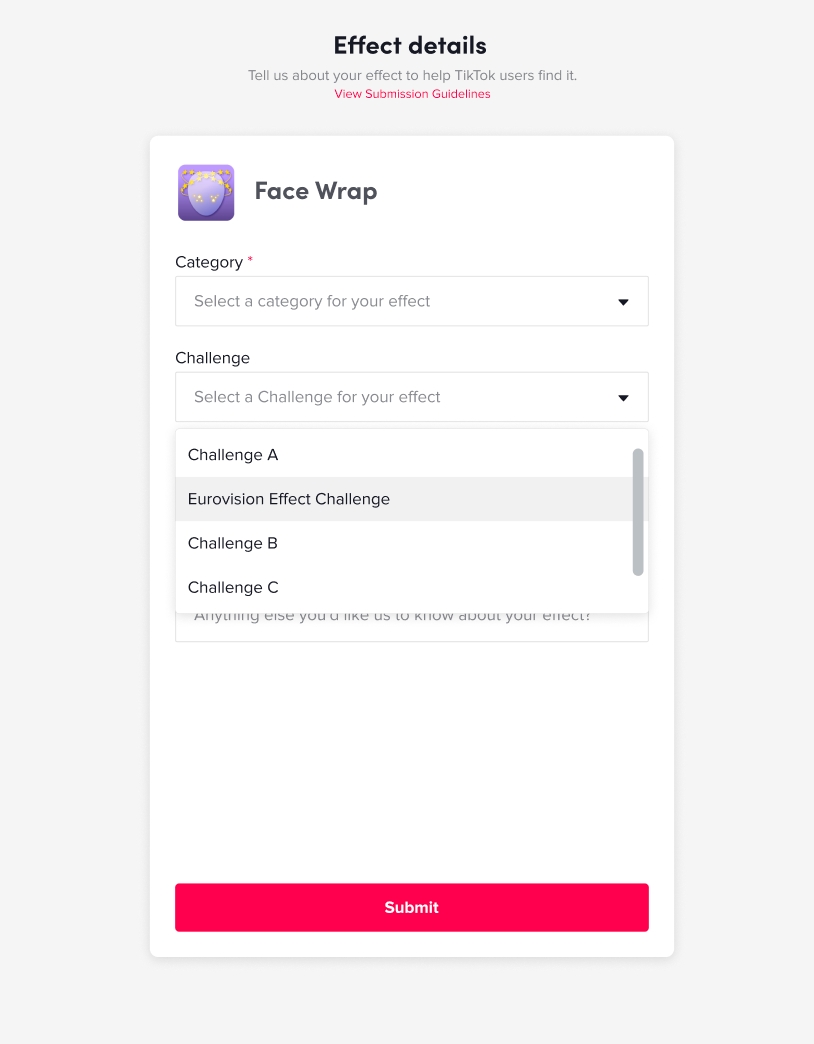 Challenge timeline
Submission start date: March 14, 2023 @ 09:00AM GMT
Submission end date: April 5, 2023 @ 11:59PM GMT
Winner announcement: April 11, 2023
---
Frequently asked questions
---
How do I know if I won the challenge?
---
Can I get more than one prize?
---
Can I submit effects I've already published?
---
Can I submit more than one effect?
---
Visit here for full terms and conditions. No purchase necessary, void where prohibited. The Entry Period is between March 15th, 2023, 09:00 AM GMT and April 5th, 2023, 00:00 AM GMT. Open to legal residents of selected regions where Effect House and TikTok is available and who are at least 18 years of age, at the time of Entry. Enter by submitting an effect as described in the terms between March 15th, 2023, 09:00 AM GMT and April 5th, 2023, 00:00 AM GMT. 13 winner[s] will be selected by a panel of judges based on specific criteria set out in the terms. Username and profile picture of winner[s] will be displayed. Reward: the Entrant who submits the Entry with the highest score will win the following: 1st place; $3,000 USD and 2 (two) tickets to Eurovision Grand Final on May 13th, including a 2 night stay (12-14th May) in a 4* Hotel or similar accommodation, including Flights and transportation; 2nd place: $2,000 USD, 3rd place: $1,000 USD, and 4th – 13th – $500 USD. Limit of one Reward per person.
Terms & Conditions: ALB, BG, CZE, DE, EL, ES, FR, HR, IT, LT, LV, NL, PL, PT, RO, SLK